Protection of Wind Turbine Structures
Monitoring the tower, blades, nacelle, main bearings and gearbox is an important part of the wind turbine safety chain.

If these components oscillate, move or vibrate too much, or if they break loose and create large shocks, it can endanger the wind turbine and cause severe damage.

The PCH 1026 vibration monitor has been specially developed to monitor vibrations in wind turbine components. It is certified by DNV-GL according to Guide Lines 2010 chapter 2.3.2.7 and 2.3.2.8 (GL2010) and rated according to the functional safety standard ISO 13849-1 as a PL=d rated component.

A Trustworthy Partner in Wind Turbine Protection
More than 20 Years of Experience
PCH Engineering has more than 20 years of experience in designing vibration monitors for wind turbines. Since the production of our first wind turbine protection monitor in 1998, we have been the leading provider of safe protection systems to wind turbine manufacturers all over the world.

Our engineers help manufacturers optimise the protection of their wind turbines when producing new wind turbines and when making design improvements to existing wind turbines. By choosing us you get a professional worldwide partner, who listens to your requirements and modifies the solution accordingly.

Your Safe Choice in Protection Monitoring
We offer wind turbine manufacturers a well-tested procedure using signed specification documents to ensure that each monitor is set as requested.

The monitor is fully configured for use and includes technician and administrator access levels for maximum security.

We always select high quality and high precision components and offer the monitors at attractive prices. We develop our products continuously in order to offer you new and safe technologies which improve the safety chain of the wind turbine.

And it doesn't end there.

Our products grow with your wind turbine and can always be upgraded or adapted to your future needs.

By 2018, the PCH 1026 vibration monitor had been fitted to more than 100,000 wind turbines, and in 2019 we released the PCH 1026 MK3 with full GL2010 SIL2/PL-D functional safety certification.

PCH 1026 Digital Structural Vibration Monitor
The PCH 1026 offers permanent monitoring of low frequency structural and seismic vibrations.

PCH 1026 is a monitor for very low frequency applications, such as the tower and blades of wind turbines or steel towers, chimneys, bridges and buildings.

The PCH 1026 is certified according to Germanischer Lloyd GL2010 guidelines and ISO13849-1 as a Pl=d safety component.

In addition to this, it is also certified to monitor vibrations in buildings according to ISO 4866.

Vibration Sensors
The PCH 1026 is an
all-digital vibration monitor. It has 3 internal sensors (accelerometers) allowing for measurements in 3 directions (X, Y and Z), each with independent conditioning channels available.
The filter techniques used in the conditioning channels are based on experience from a vast amount of wind turbine applications. If necessary, also 2 or 3 conditioning channels can be assigned to just one sensor, i.e. one direction, if signals of different frequencies have the strongest appearance in the same direction.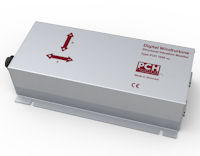 In addition to the internal sensors the PCH 1026 can also be connected to one, two or three directional external sensors like the CHB 1102/17 and the CHB 1101.
When using these options, the monitor will be able to monitor tasks such as differential nacelle vibrations, torsional vibrations from the output shaft of the gearbox and many other tasks needing multiple pick up locations in the wind turbine.
SSD - Safety Shock Detection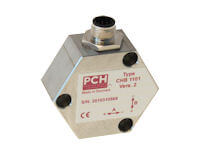 The PCH 1026 MK2 / MK3 can be fitted with an electronic Safety Shock Detection system (SSD) certified by DNV-GL according to the GL2010 standard, eliminating the need for traditional mechanical shock detection systems.
Configuration
The PCH 1026 is supplied in more than 200 configurations, and input output options include:
Internal 3-axis accelerometer
up to 4 external sensors
up to 4 independent industrial 4-20 mA outputs
up to 4 independent alarm relays
1 System Failure relay
12 data channels outputs
1 optional GL2010 certified SSD card (high-power/low power) with independent output for safety loop
Possibility to set up and access data from internal Zoom FFT on up to 2 channels
Industrial communication protocol support: USB, RS232, RS-485, CANbus, CANopen, InterBUS, ProfiBUS, ProfiNet, ProfiSAFE, DeviceNET, EtherCat, Ethernet/TCP etc.

PCH 1026 can be accessed by OEM's and authorised personnel via our PC program, which makes the setup and configuration of the monitor a very easy task. The configuration is done through the RS232/USB service port.

Built-In Self-Test & Diagnostics
The PCH 1026 comprises a test function which can be used to test both the internal sensors (accelerometers) as well as the outputs of the monitor.

It reports to any connected controller by means of the System Failure relay and the serial port.

Details concerning the cause of the System Failure can be found using the comprehensive information list in the supplied PC program.

The PCH 1026 has a test pin for PLC controlled self-test.

The unit also features a number of external diodes for easy verification of unit, alarm and communication status.

The PCH 1026 is designed in close cooperation with the leading wind turbine manufactures and is daily protecting 100.000+ wind turbines all over the world.

PCH 1026 provides far more precise electronic surveillance of the wind turbine than mechanical and electronic detectors, thus resulting in fewer faulty shutdowns and a more economical power production.

Read more — download Brochure (1.8 MB)