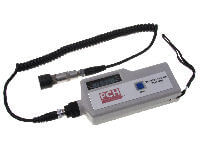 The PCH 4051 Vibration Checker is a one-button, handheld vibration measuring device featuring a separate accelerometer with a strong magnet or for measurements on hard-to-reach machine parts.
You can measure the vibration level in velocity, acceleration and displacement. The PCH 4051 complies with the DIN/ISO 10816/201816 standard and measures imbalance at 10-1000 Hz as well as resonance and bearing noises in the 1 kHz - 10 kHz range.
If you use the included magnet or a threaded stud for positioning the accelerometer, you get more repeatable measuring results, enabling you to compare data over time.