Measuring actual stroke lenght in mm using PCH 1106 Compact Vibration Sensor on oscillating machines.
Is OVERLOAD of your vibration sifter or conveyor a risk in your process? For non-homogeneous materials overload of your vibration sifter or conveyor can cause production stops. By monitoring the actual stroke lenght of the oscillating machine digitally you can optimize your process and adjust either feeding parameters or the actual machine capacity.
Avoid unscheduled production stops
You can only optimize your process if you have adequate knowledge. Often you can visually monitor an oscillating machine by video cameras and thereby manually prevent a production stop. PCH 1106 continuously monitors the actual stroke length of the oscillating machine digitally, hence even small changes in the actual machine performance are detected instantaneously.
Example from Orsted Renescience plant
In a waste-to-energy plant garbage is separated in a vibration sifter.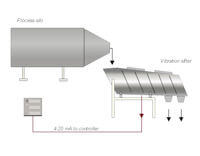 A process silo conveys garbage into the vibration sifter where solid and fluid material is separated. When the solid material blocks up in the vibration sifter a drop in stroke length is detected and the process silo will lower its output to the sifter. The vibration sifter will, hereby, receive less garbage for a short period and an overload is prevented.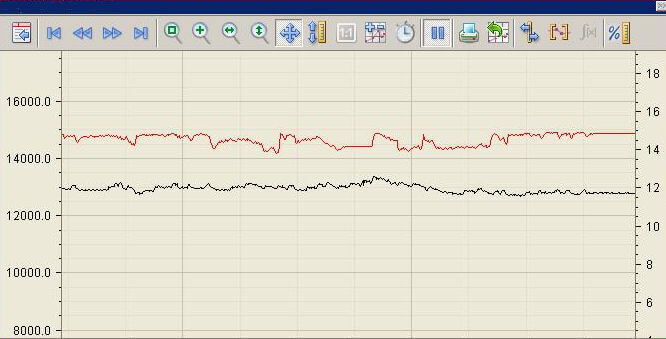 The red curve shows the exact stroke length of the vibration sifter and the black curve shows the regulated output of the process silo. When the stroke length drops to 14.4 mm the output is lowered until the stroke length increases again. Should the stroke length not increase after a preset period of time an alarm could be activated.