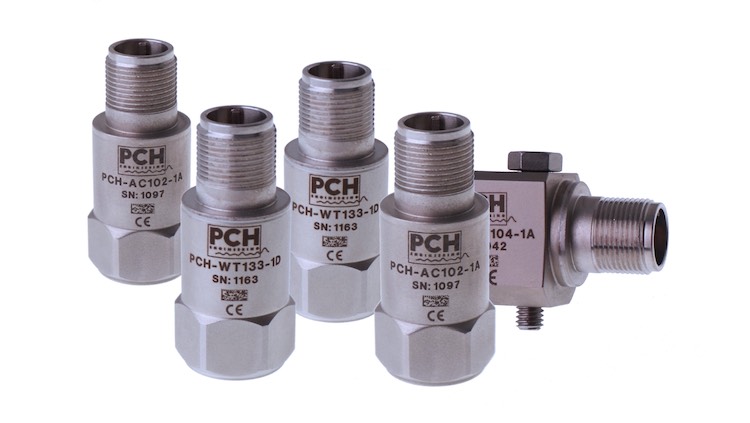 IEPE accelerometers from CTC
In our range of integrated electronics piezo-electric accelerometers (IEPE accelerometers) from
CTC
, we are confident you will find a vibration transducer to fit your application.
CTC accelerometers are versatile, full-contact transducers typically used for measuring vibrations or shock. They are suitable for direct mounting on high- or low-frequency elements such as roller bearings, gearboxes and spinning blades and can be used either for permanent vibration monitoring or portable measuring.
Certified transducer sensitivity
We offer transducers with nominal sensitivities of 10/50/100/500 and 1000 mV/g. Each transducer comes with a calibration certificate documenting its exact sensitivity within the specified tolerance of ±10%. Even lower tolerances can be ordered.
Industrial accelerometers with life-time warranty
All CTC accelerometers come with a non-conditional life-time warranty. If something is not right, simply ship it back and you will get a new one for free!
Mounting of CTC transducers
Versions with either MIL connectors or M12 connectors are available.
CTC accelerometers with top exit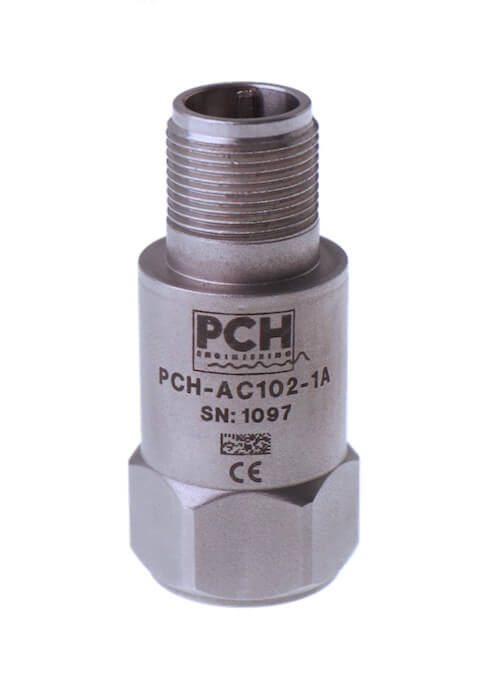 PCH-AC102: Multipurpose accelerometer, 100 mV/g
This affordable rugged accelerometer is standard size with a top cable and can be used for a multitude of industrial applications.
30-900,000 CPM frequency response (±3dB)
-50 to 121°C temperature range
100 mV/g sensitivity
± 80 g, peak dynamic range
CTC AC102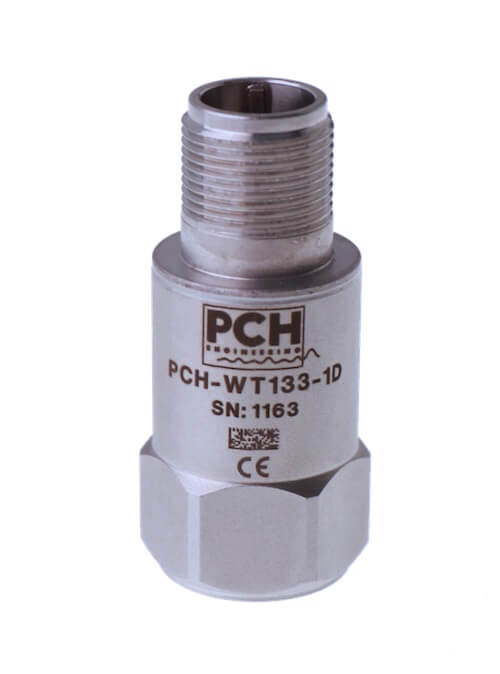 PCH-WT133: Low-frequency accelerometer, 500 mV/g
This low-frequency accelerometer is designed for industrial applications such as low speed rotors, main bearings, and gear box inputs, but the accelerometer can also be used for high frequency detection in applications that require both low and high frequency measurements.
6-600,000 CPM frequency response (±3dB)
-50 to 121°C temperature range
500 mV/g sensitivity, ±10% sensitivity
0.1 Hz for low frequency measurements
10,000 Hz for high frequency detection
CTC AC133
CTC accelerometers with side exit
PCH-AC104: Multipurpose accelerometer, 100 mV/g
This hermetically sealed industrial accelerometer with a side cable is suitable for mounting in confined spaces and for a wide range of vibration monitoring applications.
30-600,000 CPM frequency response (±3dB)
-58 to 250°F (-50 to 121°C) temperature range
100 mV/g sensitivity
± 80 g, peak dynamic range
CTC AC104
CTC accelerometers with hazardous area classifications
We also provide industrial accelerometers for hazardous areas, i.e., ATEX zones / EX zones 0, 1 and 2, as well as accelerometers with IECEx certificates. Contact us for more information about Ex-proof / ATEX accelerometers as they are special order items.
Not sure which CTC accelerometer you need? We are here to help:
---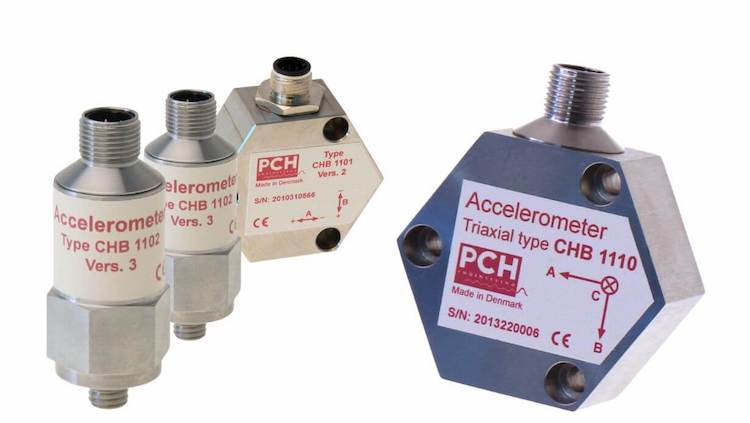 PCH Engineering's MEMS accelerometers for low frequency monitoring
Designed for low frequency monitoring of wind turbines and other structural monitoring applications, these external, 1-, 2- and 3-axis MEMS accelerometers are manufactured at PCH Engineering's own facilities in Denmark.
What the MEMS accelerometers measure
PCH MEMS accelerometers measure very low frequencies down to DC, typically in the 0-250 Hz or 0-1600 Hz range.

The accelerometers can measure velocity as well as acceleration as the signal conditioning is carried out by our PCH 1420 vibration monitor. Accelerometers for 100 mV/g and 300 mV/g are available.
Power supply for MEMS accelerometers
MEMS accelerometer housing
All PCH MEMS accelerometers come in a sturdy stainless-steel housing with an M12 connector and can be mounted using either three M4 hexagonal socket screws or the integrated M8 threaded stud.
1-, 2-, and 3-axis MEMS accelerometers from PCH Engineering
Single axis MEMS accelerometers (CHB 1102/1115/1117/1128)
These external, 1-axis, low frequency accelerometers are intended for wind turbine and structural vibration monitoring.
0-200 or 0-1000 Hz frequency response (-1dB)
-30 to + 60 °C temperature range
84 mV/g or 260 mV/g sensitivity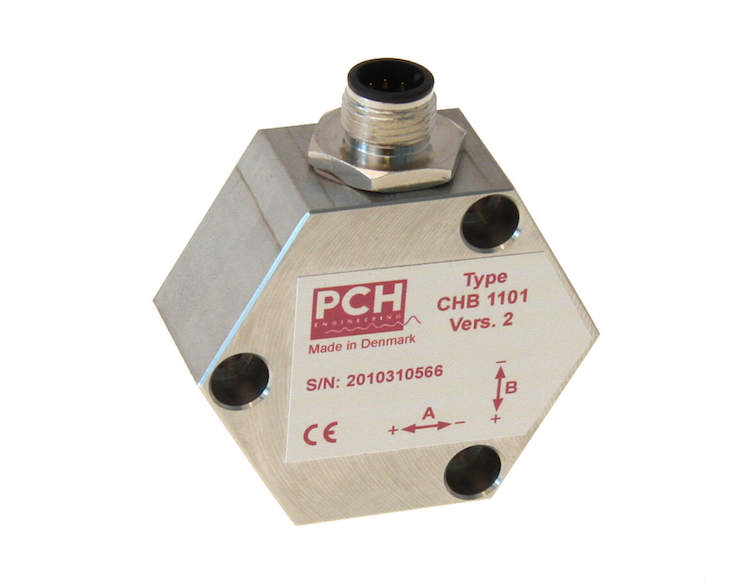 Dual axis MEMS accelerometer (CHB 1101)
The dual direction accelerometer is often used for advanced nacelle monitoring in wind turbines with distributed pick-up points.
0-100 Hz frequency response (-1dB)
-30 to + 60 °C temperature range
260 mV/g sensitivity
Triaxial MEMS accelerometer (CHB 1110/1126)
This external, 3-axis accelerometer is compatible with most data acquisition systems or the
PCH 1420 Vibration Monitor
. In low frequency applications such as structural monitoring of buildings, antennae, cooling towers or test rigs, the CHB 1110/1126 triaxial accelerometer is the ideal cost-effective vibration monitoring solution.
0-1600 Hz frequency response (+/-3 dB)
-30 to + 60 °C temperature range
100 mV/g or 300 mV/g sensitivity
---