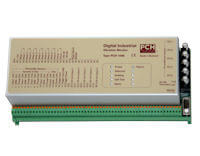 The PCH 1046 is a proximity monitor with a high quality at an affordable cost. The monitor is targeted to be used for monitoring water, steam or gas turbines or any other type of machine needing on-line vibration monitoring based on proximity probes.
The monitor is equipped with 4 vibration channels with the capability of monitoring X,Y Smax and GAP. Furthermore it is equipped with optionally 1 extra channel for case expansion monitoring (Z). A trigger input is present for Off line orbit monitoring.
All parameter settings are made using the complementary Windows based software CHT 1024.
Included in this software are different visualization possibilities including Graphical ORBIT.
Features:
4 inputs for dynamic proximity probes
1 input for static proximity probe (axial displacement)
1 tacho input PNP/NPN
1-1000 Hz Filter range
0-2000 um Peak-to-Peak
Smax measurement of X and Y direction according to VDI2059
GAP monitoring
Configurable alarms for dynamic and static alarms
5 outputs 4-20 mA
6 alarm relays with Make og Break function
System failure relay (OK Relay)
5 BNC connectors with buffered output
RS232/RS485 communication port