The PCH 1420 vibration monitor gives you thorough insights into the condition of your machinery, allowing you to prevent serious machine damage and costly production stops.

This vibration monitor is the sensible choice when you wish to combine machine protection with the condition monitoring of roller bearings.

The PCH 1420 is a volatile 4-channel vibration and process system for the permanent monitoring of vibrations and process parameters in rotating machinery.

Easily integrate the monitor with your DCS, SCADA system or PLC through hardwired 4-20 mA signals, alarm relays or various interfaces like Modbus TCP/RTU, ProfiNet, OPC UA or IIoT (REST).
Only pay for the vibration monitoring solution you need
There is no sense in investing in a complex vibration monitoring system if you only need a few of its functions. That is why we have made the PCH 1420 Vibration Monitor part of the modular PCH 1420 Link Concept.

With the Link Concept, you can add additional monitoring modules as your need for more sensors grows. In other words, you only pay for what you require here and now.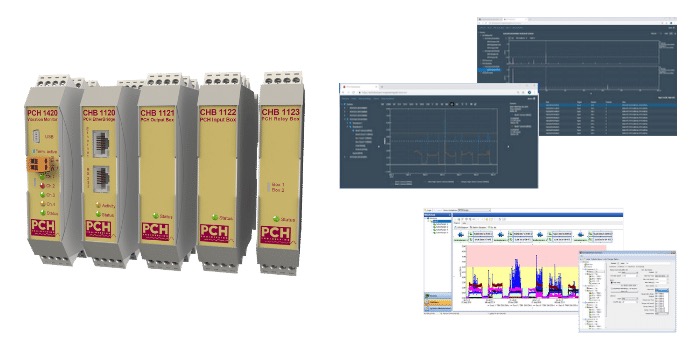 SIL 2 Rated Vibration Monitor
The PCH 1420 vibration monitor is SIL 2 rated and can form part of a SIL 2 safety chain as well as a Condition Monitoring System (CMS).

ISO 10816/20816 Compliant Monitor
With the PCH 1420's standard setup, which is ISO 10816/20816 compliant, you can detect early bearing faults while monitoring the severity of unbalance and misalignment in your machinery.

The PCH 1420 offers both broadband high frequency monitoring, Envelope, Kurtosis and Crest factor for bearing fault detection.

All the detectors run simultaneously and are based on inputs from up to 4 measuring points in real time. Each bearing fault detector can measure the various fault indicators throughout the lifetime of the bearing.

PCH 1420 with Enhanced Alarm Functions
PCH 1420 includes an integrated alarm, which alerts the user when an alarm limit has been exceeded through a connected rotor light, a beeper, a control system, or by directly shutting down the machine.

The alarm functions can also be configured as needed.

Where to Get Your PCH 1420 Vibration Monitor
If you are situated in Denmark and Scandinavia, contact our headquarters in the Copenhagen region.
We also work closely with local distributors all over the world.