By monitoring the vibration, bearing temperature and rotational speed of the spray dryer's rotary atomizers, you can ensure safe, stable operation of the machine at the optimum capacity, reduce unscheduled production stops, and protect operators and machinery from catastrophic failure.


Below, find our recommendations for low-cost monitoring solutions for spray dryers with rotary atomizers in any industry.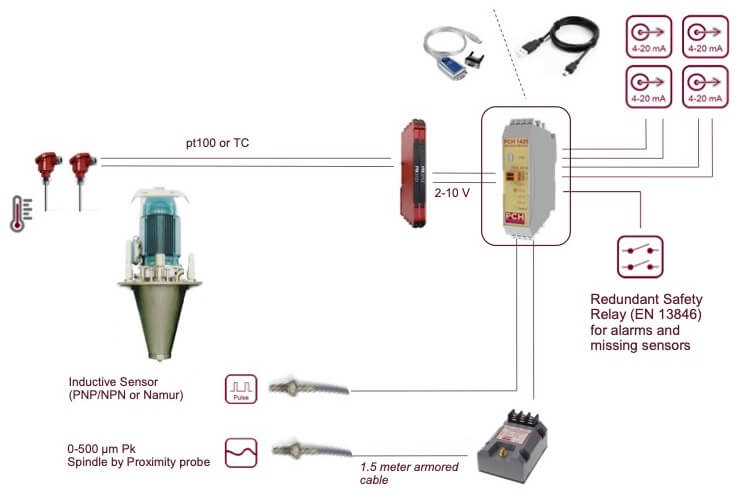 Vibration in real time

Bearing temperature monitoring

Safe overspeed detection with two-wire NAMUR speed sensor

ISO-compliant measurements

Individual alarm limits for each measurement

SIL 2 safety relay for shutdown
Low-cost spray dryer vibration monitoring
Monitor your spray dryers at a reasonable cost w
ith PCH Engineering's vibration monitoring system for spray dryers with rotary atomizers. All solutions can be factory fitted by the spray dryer OEM or retrofitted to already installed spray dryers.
Full safety monitoring: PCH 1420 Vibration Monitor + accelerometer / proximity probe
The PCH 1420 Vibration Monitor provides early warning of spindle imbalance and emerging bearing and gearbox faults in your critical assets, allowing you to schedule spray dryer maintenance as needed and reduce machine downtime and unscheduled production stops.

In a spray dryer monitoring setup, this advanced, 4-channel monitor provides real-time vibration monitoring, bearing temperature monitoring and overspeed detection without the need for additional modules.

Real-time monitoring means that sensor signals are captured and processed by the monitor online and the measurement values are updated every 100 ms.
Features of the PCH 1420 Vibration Monitor
4 input channels: 1 vibration sensor, 1 speed sensor, 2 temperature sensor inputs
Speed sensor options: PNP/NPN/AC or safe two-wire NAMUR (optional configuration)
4 configurable outputs: relay, 0/4-20 mA or 0/2-10 V
Redundant SIL 2 safety relay
User-defined bandpass filters from 0.7 Hz up to 11,500 Hz
Bearing fault detectors: Envelope, Crest and Kurtosis
Adjustable alarm levels and delay times
Vibration monitoring
One input channel is dedicated to a vibration sensor (either an accelerometer or a proximity probe/eddy current probe), which measures vibration in the rotary atomizer bearings in real time and triggers an alarm in the event of excessive vibration. To avoid false alarms, the alarm has adjustable delays.

By analysing the vibration trend data over time, you can detect and locate emerging bearing faults before they cause internal damage or catastrophic machine failure.
Temperature monitoring
Rising bearing temperatures are also a sign of emerging bearing failure. Two of the PCH 1420's four input channels are dedicated to measuring the temperature of the spindle bearings of the spray dryer's rotary atomizer from external transmitters with either pt100 sensors or with TC thermocouple sensors.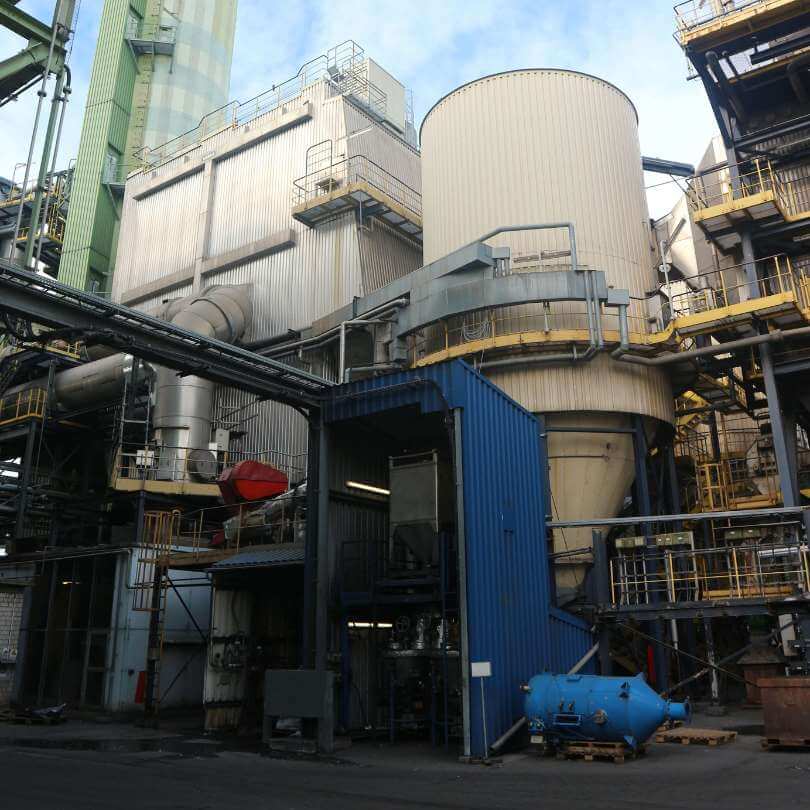 Overspeed detection
The fourth input channel is allocated to a speed sensor that measures the rotational speed of the rotary atomizer's spindle and triggers an alarm if it detects overspeed.

The monitor supports PNP/NPN sensors and can be factory-configured for 2-wire NAMUR sensors. Not only do NAMUR sensors detect and warn you of overspeed; they also monitor the mounting of the sensor for added overspeed detection safety.
Configurable outputs
You can easily integrate the PCH 1420 Vibration Monitor with any DCS, SCADA system, or PLC as the monitor comes with four configurable outputs for either 4-20 mA signals or alarm relays.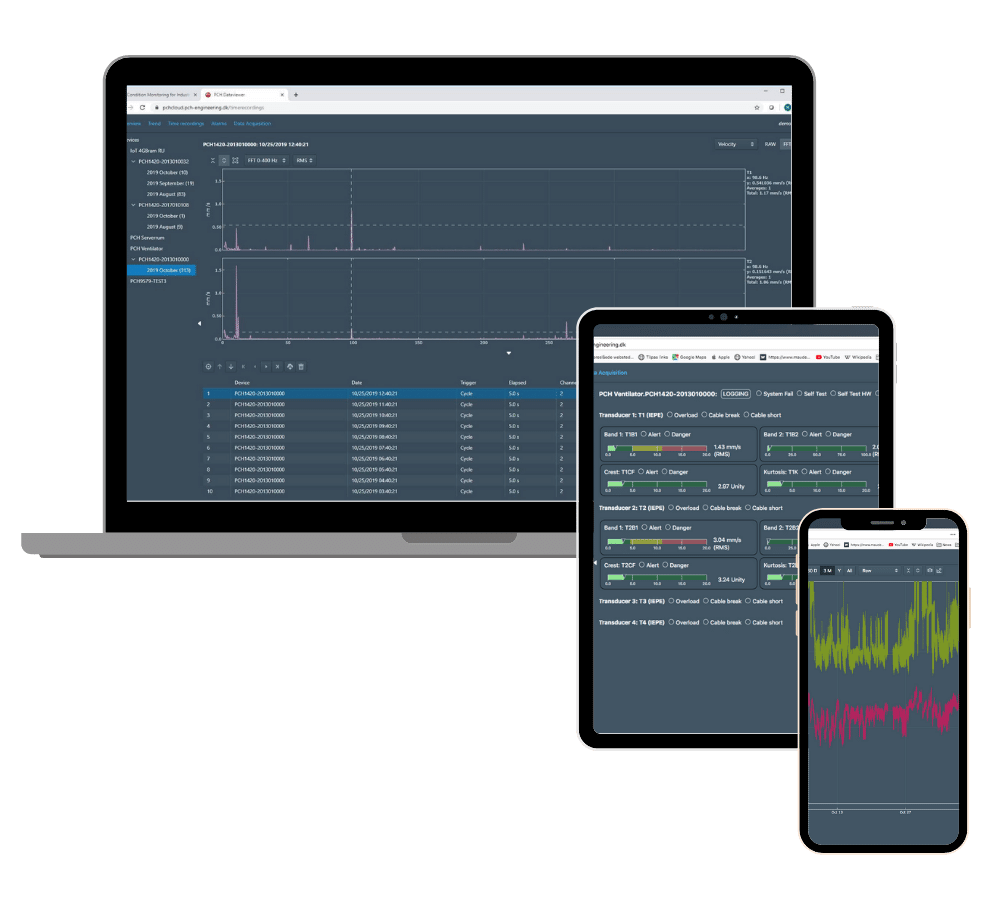 Remote data access
By pairing the PCH 1420 Vibration Monitor with the PCH EtherBridge communication module, the data can be stored for further analysis in a database of your choice, either in the cloud or on a local server, to enable predictive maintenance, and remote trend analysis and fault diagnostics. PCH EtherBridge also supports Modbus TCP and RTU for interface with a local HMI or a PLC.
Basic safety monitoring: PCH 1072 Vibration Monitor with CHB 3014 proximity probe driver and sensor
The combination of the PCH 1072 Vibration Monitor and the non-contact CHB 3014 Proximity Probe driver and probe enables you to monitor vibration in the rotary atomizer spindle without attaching sensors to the spindle bearings.

The probe induces an eddy current into the target material, which produces a negative output voltage directly proportional to the "gap" distance between the probe and the atomizer spindle and its bearings.

The AC signal is used to measure the relative vibration between spindle and bearings to detect emerging bearing faults.
Features of the PCH 1072 Vibration Monitor Prox
1 vibration input channel (proximity probe)
4 alarm relays and 2 4-20 mA output
System failure relay
Configurable alarm levels and delay times
Can be used in a SIL-2 safety chain
Offline FFT analysis
Let our experienced consultants help you find a monitoring solution for your rotary atomizer:
---