Find the monitoring solution for your centrifugal fans
Centrifugal fans are critical to many processes and safe work environments in various industries, from mining, power plants and oil and gas to cement and chemical production.

At PCH Engineering, we offer three levels of safety to suit your fans and budget. Depending on the size and accessibility of your fans, choose between the permanently mounted vibration sensor combined with handheld equipment, or the more advanced solution which enables remote fan condition monitoring.



Common applications
Cement production
Chemical production
Oil and gas (upstream, midstream, downstream)
Power plants
Mine safety
… and more
Basic vibration monitoring: PCH 1106 Vibration Sensor
The
PCH 1106
Vibration Sensor is a compact vibration sensor designed for the permanent monitoring of unbalance and misalignment problems in rotating machinery such as industrial fans.
Mount one sensor permanently on the motor or on the bearing housing at the fan drive end for overall vibration measurements.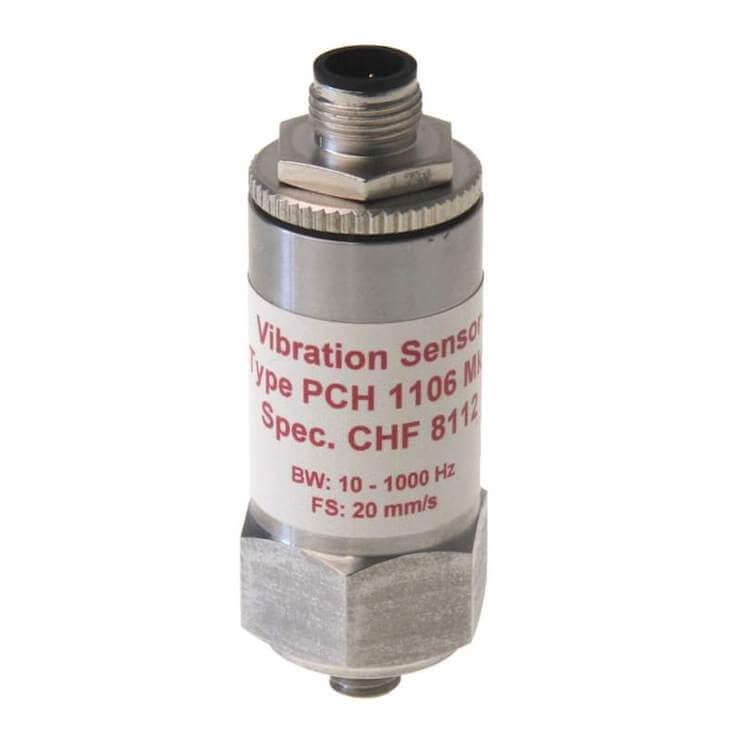 Features of the PCH 1106 Vibration Sensor
Frequency range: 10-1,000 Hz
Measuring range: 0-10, 0-20, 0-50 or 0-100 mm/s
Signal detection: RMS
Measuring parameter: velocity (mm/s)
Outputs: 1 analogue output (4-20 mA or 1-5 VDC)
Vibration and temperature monitoring: PCH 1106 T Vibration Sensor
When you need to measure temperature as well as vibration in your centrifugal fan application, the
PCH 1106 T Vibration Sensor
provides vibration and surface temperature measurements through dual 4-20 mA outputs, eliminating the need for a Pt100 transmitter.
Mount the sensors radially on the fan bearing pillow blocks to measure vibration as well as temperature for added safety.


Features of the PCH 1106 T
Frequency range: 10-1,000 Hz
Measuring range: 0-20 mm/s or 0-50 mm/s
Signal detection: RMS
Measuring parameter: velocity (mm/s), temperature 0-100 °C
Outputs: 2 analogue outputs (4-20 mA) relative to vibration and temperature
Fan condition monitoring: PCH 1420 Vibration Monitor
The
PCH 1420 Vibration Monitor
is an advanced, 4-channel monitor which provides a wide range of real-time vibration data, remote monitoring, and local alarms. With four external accelerometers, you get the full picture of the fan and motor vibrations on each side of the coupling or belt (centre-hung or over-hung fans).
If you combine several PCH 1420 Vibration Monitors and add more channels and accelerometers you can even detect radial, axial and horizontal vibration, which improves the fan problem diagnosis.
Features of the PCH 1420 Vibration Monitor
Frequency range: adjustable, 0.7 Hz to 11.5 kHz
Measuring range: adjustable (default 0-20 mm/s and 0-100 m/s²)
Signal detection: RMS, Peak, Peak to Peak
Measuring parameter: velocity (mm/s), displacement (μm/mm) or acceleration (m/s²)
Other inputs: RPM via PNP/NPN sensor or 4-20 mA input
Outputs: 4 analogue outputs (0/4-20 mA or 0/2-10 V) or 4 digital outputs, 1 alarm relay
Communication: RS-485, USB, IoT-ready, PCH Cloud
Compliance: SIL 2, IEC 61508, PL-d, IP 20
Online data access and IoT compatibility: PCH EtherBridge communication module
Combine the monitor with the PCH EtherBridge to upload and store your fan vibration data in the PCH Cloud database or on a local server of your choice, and easily incorporate vibration data into your predictive maintenance strategy.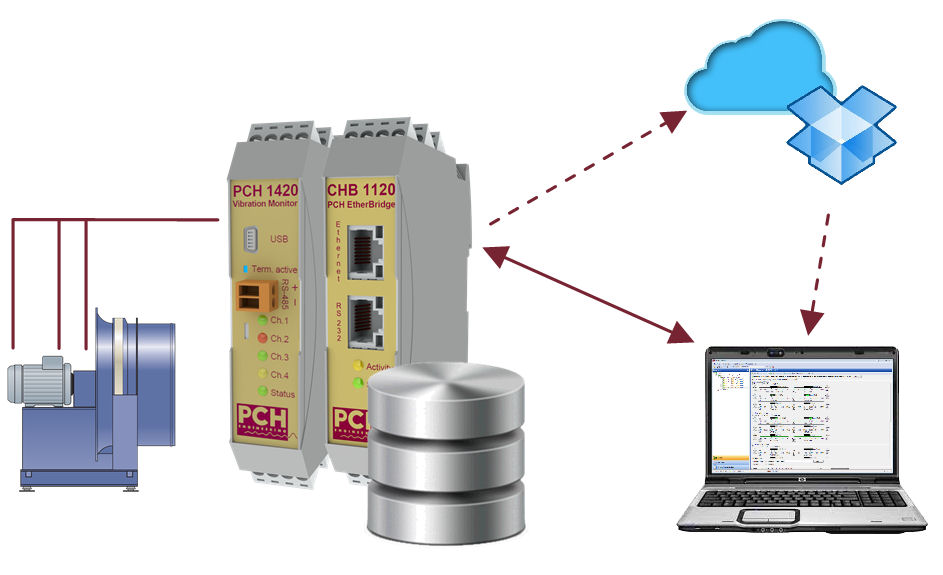 Features of the PCH EtherBridge
1 alarm relay and 1 digital input relay
Communication hardware: RS 485, RS 485/232, RJ45 LAN connector for TCP
Communication protocols: Modbus TCP, Modbus RTU, OPC UA
Data storage: PCH Cloud, IIoT Rest, mini SD-card (optional)
---
Why monitor vibrations in centrifugal fans?
Large centrifugal fans - also known as radial fans or blowers - are often critical to industrial processes or workplace safety. When they fail, the consequences can be significant and wide-ranging, from costly production downtime, reduced product quality, and added energy and maintenance costs, to equipment damage, safety risks, regulatory compliance issues, and supply chain disruptions, not to mention lasting damage to your company's reputation.

Excessive vibration indicates emerging faults in the centrifugal fan. By continuously monitoring the vibration frequencies, you can track vibration trends and schedule maintenance as needed to minimize downtime and production disruptions.

In other words, you can detect and address potential issues before they lead to fan failure and other operational problems.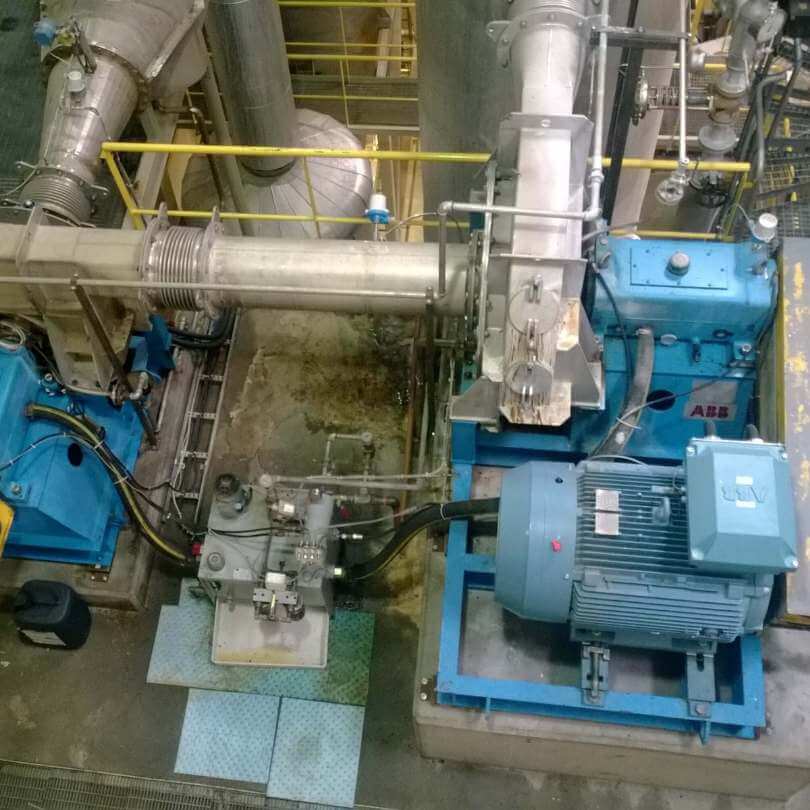 Common causes of vibration in radial fans
According to an American study of industrial fan failure, bearings, blades, and foundations account for more than 54% of centrifugal fan problems.
Bearing wear
Large industrial fans can last for decades, but the bearings often wear out before the larger components. Excessive bearing wear can also be caused by shaft misalignment, impeller imbalance, inadequate lubrication, or poor maintenance.
Shaft misalignment
If the drive motor shaft and the fan shaft are not aligned, the vibration amplitude will increase. If not detected in time, this can lead to complete fan failure.
Resonance
Resonance is common in fans, as the lightly constructed fan components are naturally susceptible to this vibration issue, and it contributes to many fan problems.

It is often detected when the fan operates close to or moving through first critical speed during acceleration and deceleration. Resonance frequencies can also be caused by structural resonance, which can damage bearings, seals and other fan components.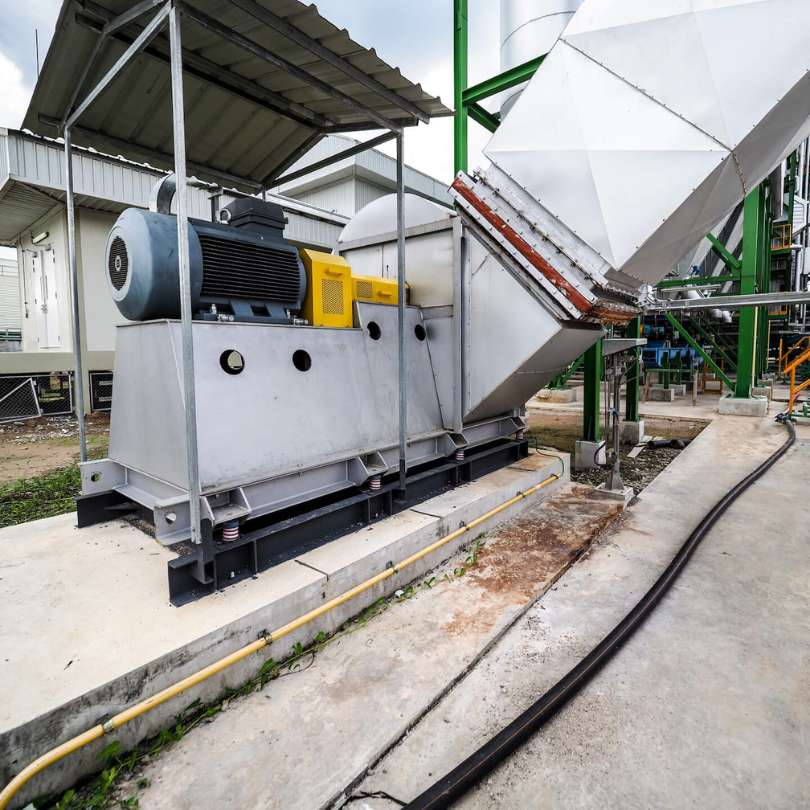 Fan impeller imbalance
The fan blades can wear down unevenly over time, causing impeller imbalance, especially in applications with corrosive materials or gas.

Fan impeller imbalance can also be a manufacturing issue or a result of inadequate workshop balancing. In material-handling fan applications, material build-up on the blades can also result in impeller imbalance.
Mechanically loose connections
Looseness in connections between bearing caps, bearing pedestals, foundation bolts, etc. can increase vibration amplitudes.
---