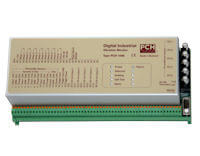 The PCH 1046 is a high-quality proximity monitor at an affordable price. The monitor is designed for monitoring water, steam or gas turbines or any other type of machine requiring online vibration monitoring based on proximity probes.
The monitor is equipped with four vibration channels capable of monitoring X, Y, Smax and GAP. And it doesn't end there. It can also be equipped with 1 extra, optional channel for case expansion monitoring (Z). A trigger input is present for offline orbit monitoring.
All parameter settings are made using the complementary Windows-based software CHT 1024.
Included in this software are various visualization possibilities including Graphical ORBIT.
Now, let us get down to details.