Permanent Sound Monitors
PCH Engineering A/S offers a sound monitor for stand-alone local monitoring of traffic, air ports discotheques, working areas etc.
Sound Monitors
3-Ch flexible monitor PCH 1017 is a sound/noise monitor with 3 channels, accepting voltage or CCLD (ICP®) microphone input.
Each channel can be individually configured to a wide range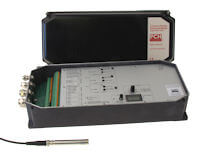 of settings, e.g. A-weighting or band pass conditioning with LMS detectors.
It is very rugged and conforms to IP 67.
It outputs AC, DC and is equipped with alarm relays.