Permanent Sound Monitors
PCH Engineering A/S offers a sound monitor for stand-alone local monitoring of traffic, air ports discotheques, working areas etc.

The monitor measures lineary Sound Pressure in Pascal (Pa).
Sound Monitors
PCH 1420 Sound Pressure Monitor measures in Pascal (Pa) and supports up to 4 IEPE microphone inputs.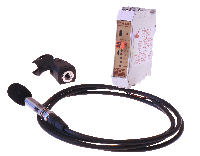 The monitor is useful as an online sound pressure meter for overall noise levels, for validation of equipment like sirens and alarms etc. and can be used for frequency analysis of tones in an offline FFT spectrum.
You can use the PCH 1420 Sound Pressure Monitor for monitoring of a maximum sound pressure level (SPL) in a given tone (frequency) or an approximated A-weighting filter band. If the sound pressure level exceeds the threshold, e.g. 94dB, the built-in relay drivers will give a digital signal to a PLC.
The Pascal measurement is displayed in the user software, delivered as 4-20 mA/0-10 V and is easily configured to the specific microphone you have chosen.
Features:
Up to 4 IEPE microphone inputs, max 3.5VAC RMS
Two or more configurable filter bands per input channel
Two individually configurable alarm levels per measurement
Time waveform recording up to 10 kHz and offline FFT analysis
24VDC power supply and prepared for DIN rail installation