Budget-friendly disc stack centrifuge monitoring
With our vibration monitoring system for centrifugal separators, you can monitor any disc stack centrifuge at a reasonable cost, including clarifiers, purifiers and concentrators, solid bowl centrifuges and self-cleaning disc stack centrifuges.
Applications
Our disc stack centrifuge monitoring solutions are suitable for vertical centrifuges in industries such as:
The food and beverage industry
The dairy industry
The marine industry
The oil industry
The pharmaceutical industry
The chemical industry
… and more.
Improved safety: PCH 1420 Vibration Monitor
With the
PCH 1420 Vibration Monitor
you get early warning of imbalance and emerging bearing and belt or gearbox faults in your critical assets, allowing you to schedule centrifuge maintenance as needed and reduce centrifuge downtime and unscheduled production stops.
In a disc stack centrifuge monitoring setup, this advanced, 4-channel monitor provides vibration monitoring, temperature monitoring and overspeed detection without the need for additional modules.
Features
4 input channels: 1 accelerometer, 1 speed sensor, 2 temperature sensors
Speed sensor options: PNP/NPN/AC or safe two-wire NAMUR
4 configurable outputs: relay or 4-20 mA/0-2.4/5/10 V
Redundant SIL 2 safety relay
User-defined bandpass filters from 0.7 Hz up to 11,500 Hz
Bearing fault detectors: Envelope, Crest and Kurtosis
Adjustable alarm levels and delay times
Temperature monitoring
Rising bearing temperatures are a classic sign of emerging bearing failure. Two of the PCH 1420's four input channels are dedicated to measuring the temperature of the centrifuge's main spindle bearings with either pt100 sensors or with TC thermocouple sensors.

Transmitters convert the pt100 signal to Volt or mA before it is captured by the PCH 1420 monitor. The monitor is compatible with any transmitter brand.
Vibration monitoring
One input channel is dedicated to an accelerometer, which measures vibration in the disc bowl in real time and triggers an alarm in the event of excessive vibration.

Real-time monitoring means that sensor signals are captured and processed by the monitor online and the measurement values are updated every 100 ms. In other words, you will be alerted to any anomalies in the vibration data miliseconds after they happen and can take immediate action to prevent machine damage. To avoid false alarms, the alarm has adjustable delays.

By analysing the vibration trend data over time, you can detect and locate emerging disc stack centrifuge faults before they cause internal damage or catastrophic machine failure.
Overspeed detection
The fourth input channel is allocated to a speed sensor that measures the rotational speed of the centrifuge's shaft and triggers an alarm when detecting overspeed.

The monitor supports PNP/NPN sensors as well as 2-wire NAMUR sensors. Not only do NAMUR sensors detect and warn you of overspeed; they also monitor the mounting of the sensor for added safety in overspeed detection.
Configurable outputs
It is easy to integrate the PCH 1420 Vibration Monitor with your existing DCS, SCADA system, or PLC as it comes with four configurable outputs for either 4-20 mA signals or alarm relays.
Basic safety: PCH 1220 Vibration Switch
The electronic PCH 1220 Vibration Switch is a basic, low-cost safety monitoring solution for disc stack centrifuges. It offers accurate, reliable alarm measurements, which enables you to switch off a faulty machine before it breaks down and risks injuring personnel.

If you would normally let your disc stack centrifuge run to failure, the electronic switch will help keep your staff safe and reduce secondary damage at a reasonable cost.

The switch automatically resets the alarm after an incident and comes with preset alarm limits for easy installation.

Features
Frequency range: 10 to 1,000 Hz
Alarm levels: custom setup
Signal detection: RMS
Measuring parameter: velocity mm/s
Outputs: 1 alarm relay with default trip at 7.5 mm/s
Compliance: IP 65
---
Why monitor vibrations in disc stack centrifuges?
Disc stack centrifuges – also known as disc stack separators – are high-speed, vertical centrifugal separators that run at up to 26,000 RPM. The high rotational speed of the bowl means that the disc stack centrifuge will naturally vibrate during operation. However, any imbalance in the bowl, discs or other parts will increase the vibration level and, consequently, the wear on the bearings and shaft.
Avoid internal bowl damage
Excessive vibration is a clear sign that a fault has emerged in the disc stack centrifuge. The increased vibration is often audible, but once you hear it, the disc stack centrifuge might already have sustained internal damage.

And if the disc stack centrifuge is operating in a noisy environment, this can drown out the vibration noise.

By continuously monitoring the vibration of the disc stack centrifuge, you can detect emerging faults and prevent machine damage.
Optimise disc stack centrifuge maintenance
Preventive maintenance has been the preferred maintenance approach to disc stack centrifuges with service checks scheduled at regular intervals, whether they are needed or not.

While this approach reduces the risk of catastrophic machine failure, it does not prevent faults from emerging between service checks, and you may end up paying more than necessary in repairs and spare parts.

That is why disc stack centrifuge owners and manufacturers are increasingly applying predictive maintenance methods such as vibration and condition monitoring.

In the event of imbalance in the disc bowl, misalignment of the spindle or horisontal shaft or bearing faults, the vibration levels increase. If they exceed the preset alarm limits, the PCH 1420 Vibration Monitor will alert your staff through LED lights on the monitor.
Improve your OEM service offer
As an OEM or disc stack centrifuge service provider, remote access to vibration data in real time means you can offer a better service to your customers. You can analyse trend data of each separator and diagnose disc stack centrifuge problems remotely.

This means that your customer's problem can be solved quicker, sometimes without the need for on-site assistance.
---
How to monitor the condition of disc stack centrifuges
Most bowl centrifuges come with built-in temperature sensors attached to the spindle bearings. They detect heat created by friction in the bearings – an indication of bearing wear.

However, these built-in sensors are not fully reliable on their own. They are affected by the temperature of the surroundings, and often, the bearings will fail before they reach the temperature limit.

That is why we recommend you supplement temperature measurements with vibration monitoring. By monitoring the vibration frequency of the disc bowl, you can detect emerging faults such as bowl imbalance, bearing wear and bowl spindle wobble.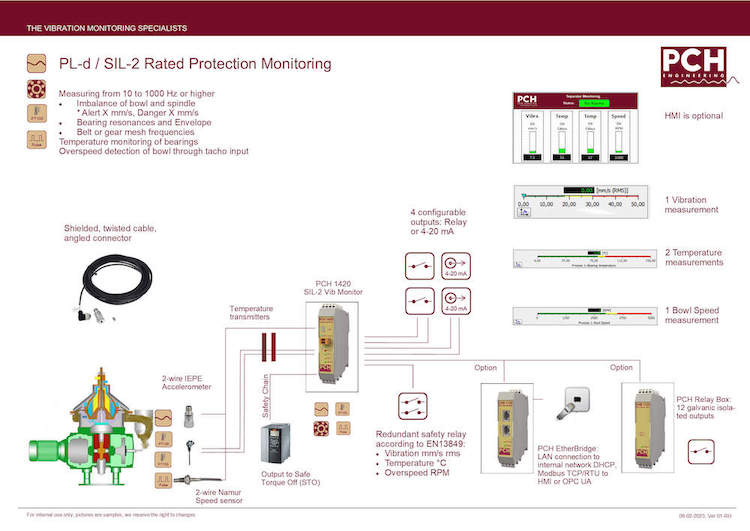 Where to mount vibration sensors on disc stack centrifuges
The most important disc stack centrifuge components to measure are the two main bearings on the spindle and the disc bowl.

The PCH 1420 Vibration Monitor monitors the temperature of the bearings through the factory-fitted temperature probes.

An accelerometer monitors the vibration frequency of the disc bowl, and a 2-wire NAMUR speed sensor detects overspeed, ensuring that the disc stack centrifuge is operating correctly at all times.
Vibration limits for disc stack centrifuges
Disc stack centrifuges will always vibrate to a certain degree.
The vibration limits for disc stack centrifuges depend on the make, type and separating duty of the disc stack centrifuge.
Always refer to the manufacturer's guidelines or consult a disc stack centrifuge specialist.
Most common disc stack centrifuge faults
The most common disc stack centrifuge faults can be detected by monitoring the bearing temperature and the vibration in the bowl:
Bowl imbalance due to:

Incorrect bowl assembly
Uneven sludge distribution

Disc imbalance
Incorrect light-phase paring disc height
Bowl spindle wobble (runout)
Bearing wear and bearing faults
Vibration damper wear
Damaged spindle bearing support springs
Horisontal shaft imbalance.
Due to the high rotational speed of the disc stack separator, each of these faults can quickly escalate and cause severe secondary damage or catastrophic failure.
Find a vibration monitoring solution to protect your disc stack centrifuge from the most common problems:
---