The PCH 1220 Electronic Vibration Switch provides basic, reliable protection of rotating machinery at a low cost.

Low-cost machine protection


Accurate, reliable alarm measurements




Automatic alarm reset



Simple installation with preset alarm limits
Electronic vibration switch vs. mechanical vibration switch
An electronic vibration switch has no moving parts that can become stuck. The electronic signal is also more accurate and has a higher degree of repeatability than a mechanical switch.
In choosing an electronic vibration switch such as the PCH 1220, you are opting for the more reliable – and hence safer – solution.
---
Main features
Frequency range: 10 to 1,000 Hz

Alarm levels: custom setup

Signal detection: RMS

Measuring parameter: velocity mm/s

Outputs: 1 alarm relay with default trip at 7.5 mm/s

Compliance: IP 65
---
Applications
The PCH 1220 vibration switch is suitable for basic monitoring of rotating machinery such as
fans
, blowers, and
pumps
.
---
Functionality
PCH 1220 monitors machine vibration within a 10-1000 Hz (ISO 10816-3/20816-3) frequency band and compares the value to the preset alarm threshold.

If the alarm limit is exceeded, the alarm is triggered.

The alarm automatically resets when the vibration level drops below the preset alarm limit.
Preset alarm limits
The vibration alarm is preset at delivery, simplifying the installation, and it comes with a delay time of 5 seconds.
Casing
The sensor is supplied in stainless steel 1.405 housing with an integrated M8 mounting stud and an M12 top exit connector.
---
Options
Temperature
The vibration switch can be fitted with a high temperature adaptor suitable for 90° C radiation.
Cables and connectors
Various cable and connector combinations are available for the PCH 1220 vibration switch. Choose between:
M 12 connector with cable lengths:
1500 mm
3000 mm
5000 mm
10,000 mm
M12 90° angled connector with cable lengths:
Alarm limits
The alarm threshold is factory preset according to your specifications, e.g., 3.2, 7.5, 9.6, 17, 36 or 47 mm/s.
---
Compliance
The vibration switch complies with ISO 10816-3/20816-3 standards.

It has an IP rating of 66/68.
---
---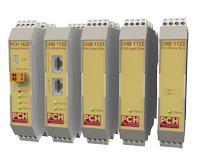 See all vibration monitors