With the IoT functionality of the
PCH Cloud solution
, you can set up your prototype or null series machinery at any test site and monitor its vibrations remotely.
This allows you to adjust alarm levels, configure appropriate shut down triggers, and obtain a deeper understanding of how your machine responds to actual use before you bring it to market.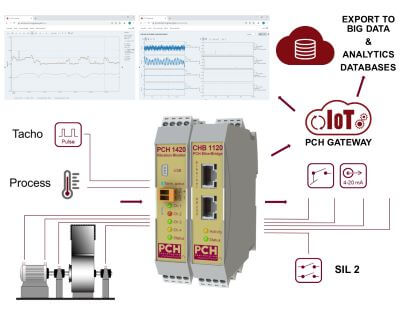 A Condition Monitoring Solution that Grows with Your Need
The PCH Cloud solution is a modular, real-time vibration monitoring system consisting of vibration sensors, configurable vibration monitors, an EtherBridge module providing cloud access and a cloud-based data viewing platform, PCH Dataviewer.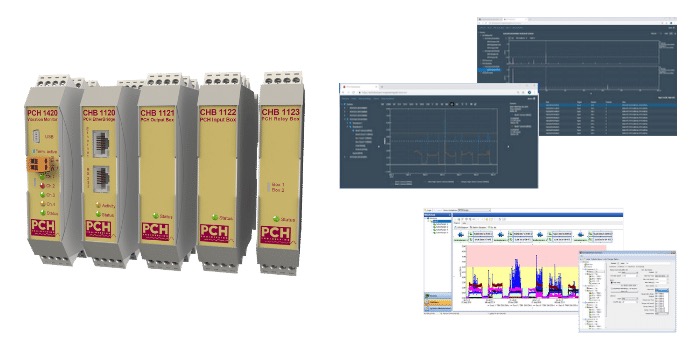 As the system is modular, it is easy to add sensors and monitors as the need for additional measuring points arises.

Real-Time Data, SIL Safety and Remote Access in One
With the PCH Cloud solution you get local, SIL 2 machine safety as the monitor's relay and alarm functions alert the operator of any abnormal vibrations and, if so configured, they can trigger a shut-down mechanism on the machine.

At the same time, you get remote access to the vibration data in real time. You can access the PCH Cloud database from any browser on any device: PC, tablet or smart phone, as required.

You can either view the data on the PCH Dataviewer platform or transfer the data to a cloud storage of your choice for further analysis.

For more information on the PCH Cloud solution, visit
iot.pch-engineering.dk
or contact our experienced advisors for a discussion of your condition monitoring requirements.