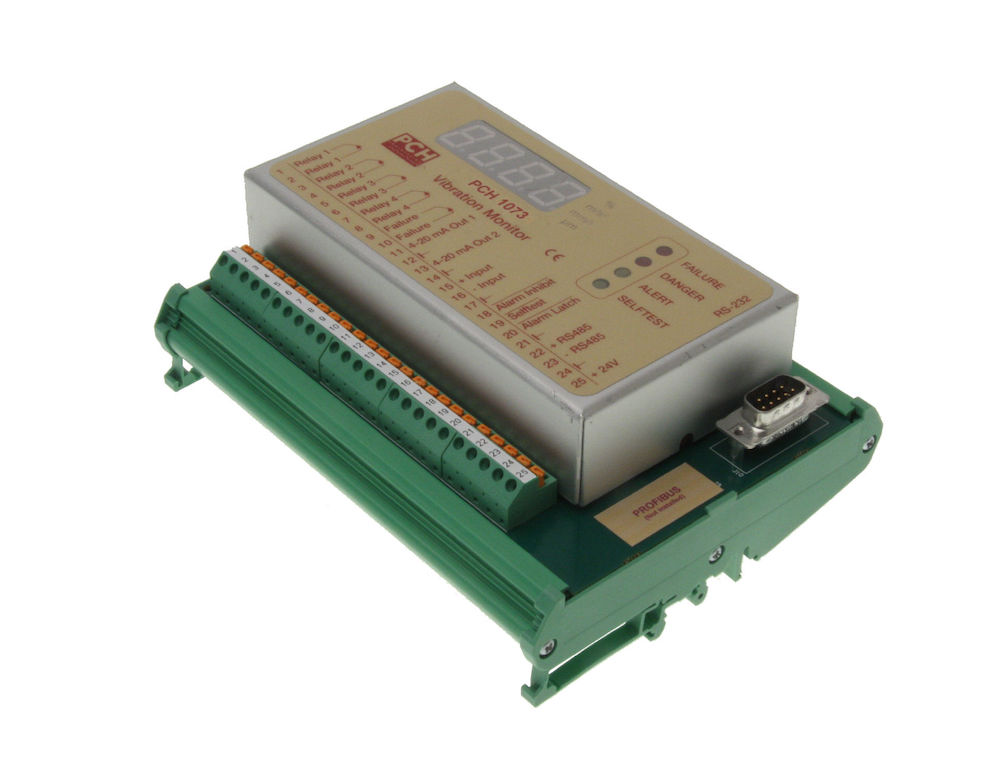 The PCH 1073 Vibration Monitor is an advanced, versatile, yet cost-effective Industry 4.0 monitoring device for critical industrial machinery.

It comes with an external IEPE accelerometer measuring acceleration vibrations.

Several monitors can be connected by RS-485 communication to offer "multi-drop", i.e. up to 255 devices can be addressed individually in an RS-485 chain of devices.
1-channel vibration monitor with two frequency bands (0.7 Hz to 11.5 kHz)
PCH 1073 is a 1-channel monitor with two simultaneously running frequency bands configurable from 0.7 Hz up to 11.5 kHz.

It can measure either acceleration, velocity or displacement, and you can choose among a range of filters.

4 adjustable alarm relays
The vibration monitor's four adjustable alarm relays that can be attached to any of the alert and danger alarms. The four relays ensure that the machine vibrations do not exceed the acceptable or allowed limit.

The alarm relays are the direct warning tools of the vibration monitor and can be used to trigger a protective procedure to avoid substantial damage of the monitored machine.
---
Main features
1 vibration input channel (accelerometer, proximity probes or velocity probes)
4 relays and two 4-20 mA outputs
Redundant Safety Relay (SIL 2)
Configurable alarm levels and delay times
Offline FFT analysis
Buffered output (optional)
Modbus RTU (optional)
Compatible with PCH Cloud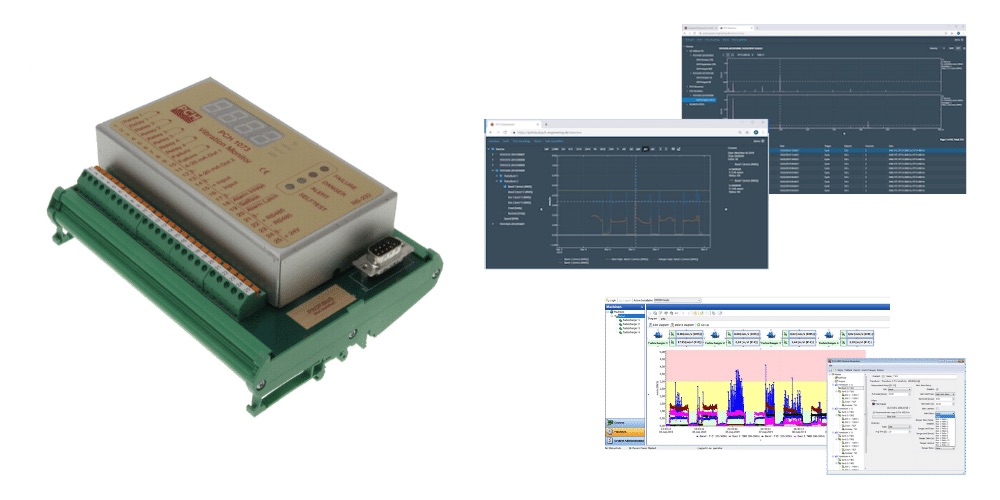 ---
Applications
The PCH 1073 Mk2 Vibration Monitor is suitable for monitoring a wide range of critical machines in a traditional production facility as well as an Industry 4.0 environment.

It measures vibrations in rotating machinery such as:
ventilators
fans
pumps
decanters
separators
mills.

---
Functionality
PCH 1073 can measure either acceleration, velocity or displacement, and you can choose among a range of filters.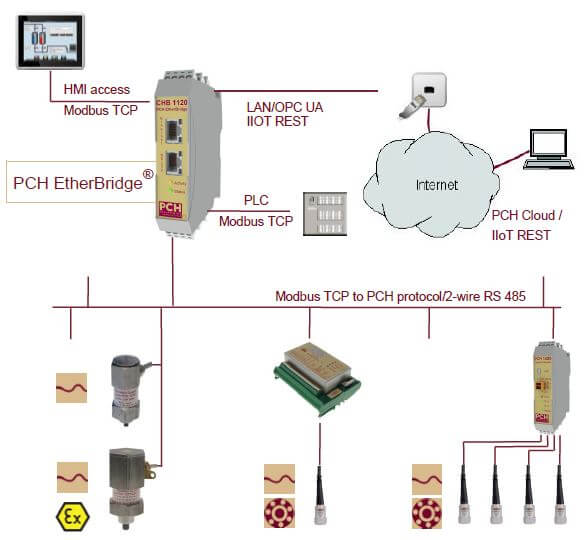 The monitor operates within 2 simultaneously running frequency bands configurable from 0.7 Hz up to 11.5 kHz:
The primary low-frequency band monitors vibrations according to DIN/ISO 10816.
The secondary multi-purpose band offers detectors such as RMS, Envelope, Crest factor and Kurtosis, and is ideal for roller bearing monitoring.

Both bands can also be configured within 0.7-1000 Hz making it possible to monitor two individual machine components simultaneously, like unbalance frequency and gear mesh frequencies.
PCH 1073 uses only a single sensor point to simultaneously detect unbalance as well as upcoming bearing failure at an early stage.
The user software PCH Vibration Studio® offers easy parameter set-up, Time streaming of vibration sequences and a bearing database as well as an offline FFT analyzer.
The PCH 1073 vibration monitor is compatible with
PCH Cloud
, the first condition monitoring solution to offer vibration data in real time as well as IoT functionality.
---
Options
Monitor acceleration, velocity or displacement
You can configure the PCH 1073 to measure either Velocity (mm/s), Acceleration (m/s2) or Displacement (μm/mm) using the complementary PCH Vibration Studio software.
DIN rail or IP67 casing
The PCH 1073 vibration monitor is prepared for DIN rail installation. If you prefer, it can also be built into a single (one monitor) or double (two monitors) IP67 aluminium casing.
Outputs
PCH 1073 can be factory configured to either a 4-20 mA or 0-10 V DC output. Each output can be assigned to any of the measuring parameters.

It can also be configured with an additional buffered output from a BNC connector.

Please note that the output is relative to the measuring range.
Communication interface
PCH 1073 supports an RS-232 communication interface as well as an RS-485 interface.
Measurement range and alarm limits
Measurement range and alarm limits can be adjusted directly in the PCH 1073 according to the machine type and size. You can choose among these measurement ranges:
10 or 20 or 50 or 100 mm/s
2.5 or 6 or 12 or 24 m/s2
Frequency Range
You can choose among a wide range of frequency range filters. See the data sheet below for full details.
Delay times
Both Alert and Danger have user defined delay times, which prevent false alarms due to momentary transients.
Latch function
The latch function ensures that the alarm relay stays triggered until it has been manually or remotely reset, even when the vibration level has decreased.
---
Compliance
The PCH 1073 vibration monitor is CE rated according to EN 13849, PL-d.
---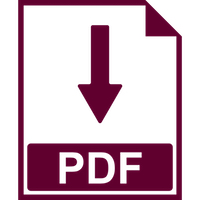 Download product data sheet
---