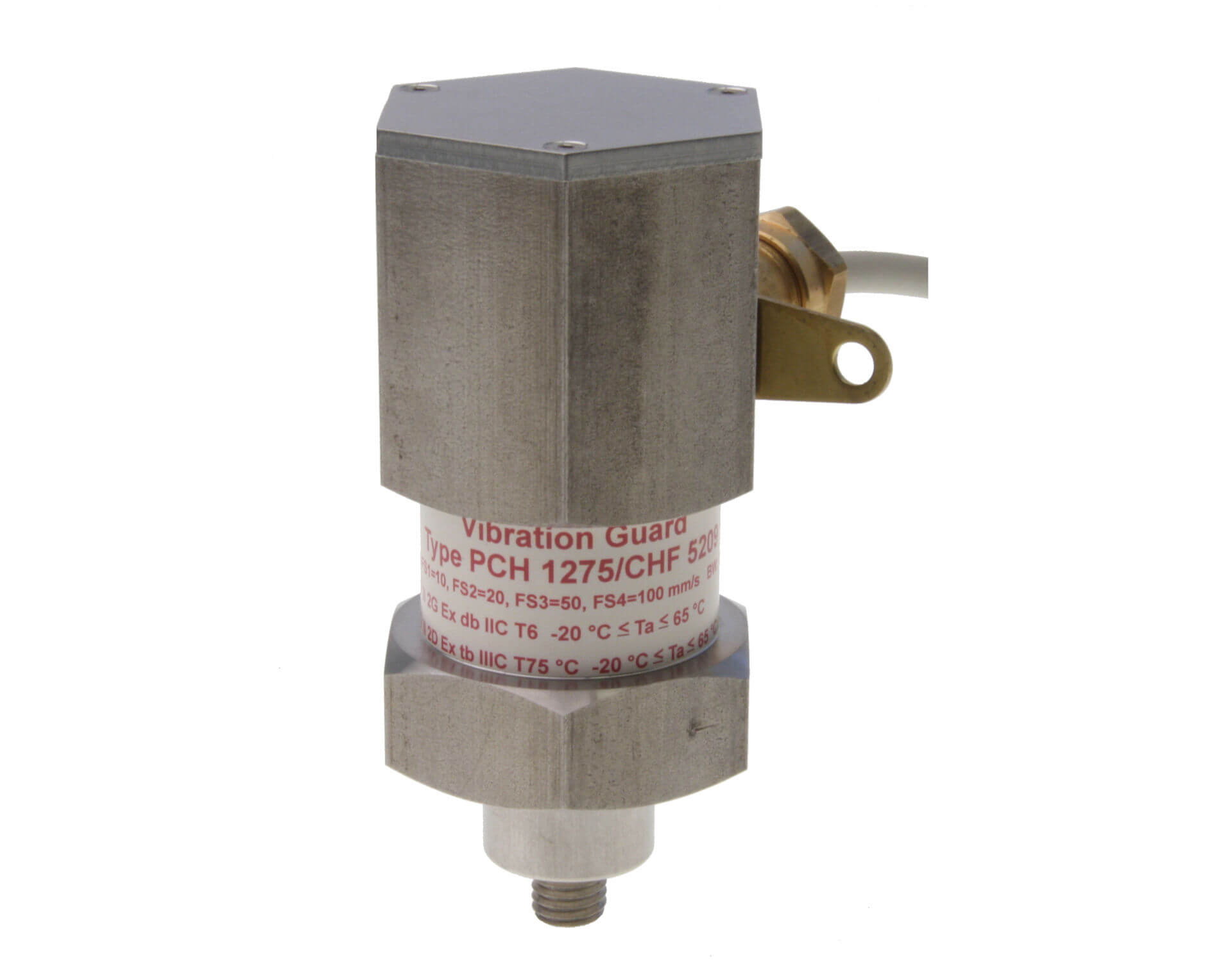 Do you need to monitor critical rotating machinery in ATEX zones?

The PCH 1275 and 1277 Compact Vibration Guards are Ex certified and approved for mines and other hazardous areas.

The compact PCH 1275 and PCH 1277 monitors with internal vibration sensors are ideal as part of the safety chain for dangerous machinery where high accuracy and fast response times are vital.

PCH 1275 and PCH 1277 comply with Functional Safety (EN13849), PL-d (SIL 2).
---
Main Features
Measuring parameter: velocity mm/s or acceleration m/s²
Frequency range: 10 to 1000 Hz, 1 to 30/300 Hz and more
2 alarm levels with individual delay times and 2 alarm relays
Analogue DC output RMS 4-20 mA, proportional to 0-100 %
Measuring range selectable: 10 to 100 mm/s or m/s² rms
Self-test function can be activated externally
Safety level SIL 2 rated
ATEX version suitable for zone 1 and zone 21
EAC certification available
ETL listed component, ATM issued by Intertek
Only PCH 1277: RS-485 functionality for online communication with complementary PCH user software

Versions
The ATEX certified PCH Compact Vibration Guard series consists of two versions:

PCH 1275, which is our standard, compact, ATEX certified vibration sensor
PCH 1277, which, in addition, has RS-485 communication for online data transmission. PCH 1277 is compatible with our IoT condition monitoring solution, PCH Cloud.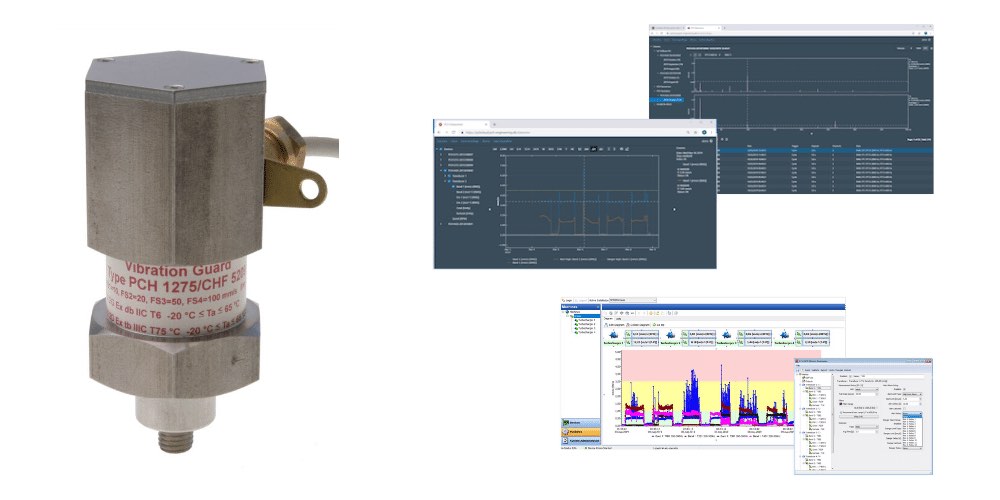 ---
Applications
The PCH 1275 and 1277 vibration sensors can monitor a wide range of rotating industrial machinery, e.g.:
---
Functionality
The PCH 1275 and PCH 1277 vibration guards consist of a vibration sensor as well as circuitry for conditioning, alarms and output, all embedded in a stainless steel housing.

The ATEX certified vibration sensors compare the actual vibration levels with the internal thresholds 10 times per second. They can give you early warning of machine faults or even trigger an emergency shutdown of your machinery.

PCH 1275 and PCH 1277 are suitable for ATEX zones 1 and 21.

Measurement range, alarm limits and delay times can be adjusted directly in the PCH 1275 or 1277 vibration guard according to the machine type and size it is to monitor. With the PCH 1277 vibration sensor, you can also change all settings using the complementary PCH user software, including readouts of vibration level, status and offline FFT analysis up to 1000 Hz.

Standard ISO 10816-3/20816-3 (2/10-1000 Hz) or customised filter ranges like 1-3/300 Hz can be delivered.

PCH 1275 and 1277 comply with Functional Safety (EN13849), PL-d (SIL 2).
---
Options
Monitor acceleration or velocity
The PCH 1275/1277 vibration sensors monitor seismic mechanical vibrations according to DIN/ISO 10816/20816 as default.

The compact ATEX vibration sensor series can be configured to measure velocity (mm/s) or acceleration (m/s2).

Low frequency versions are available. Individual measuring parameters can be customised.

Select Filter Ranges
Use the standard ISO 10816-3/20816-3 (2/10-1000 Hz) filter range or choose a customised filter range tailored to your machinery.
---
Compliance
The PCH 1275 and PCH 1277 vibration sensors comply with Functional Safety (EN13849), PL-d (SIL 2).

Each calibrated ATEX Vibration Guard delivered by PCH Engineering comes with a test certificate.

---
---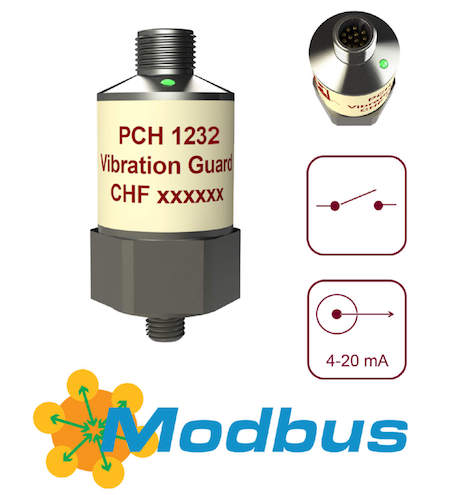 See all compact vibration monitors