How the PCH vibration monitoring system measures pump vibrations
PCH vibration monitoring solutions measure pump vibrations by monitoring the bearing housing using a combination of vibration sensors and monitors.

The sensors detect the vibration level of the pump bearing housing and deliver the measuring results as either 4-20 mA, alarm relay outputs or by Modbus TCP. More enhanced monitors can also be used for time waveform and frequency data analysis.

With PCH Engineering's range of vibration monitors and sensors, you have a wide selection of simple or advanced vibration monitoring equipment depending on your requirements.


---
How to monitor vibrations in centrifugal pumps
A centrifugal pump has three rotating components: the shaft, the impeller(s) and the bearings.

Vibrations from the rotating parts are transmitted through the pump's rotating shaft through the pump bearings to the bearing housing.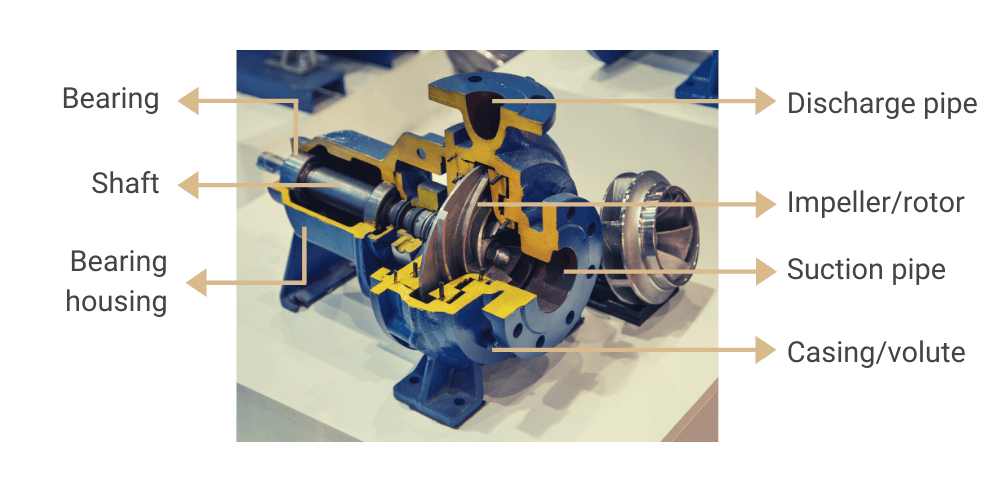 Where to mount vibration sensors on centrifugal pumps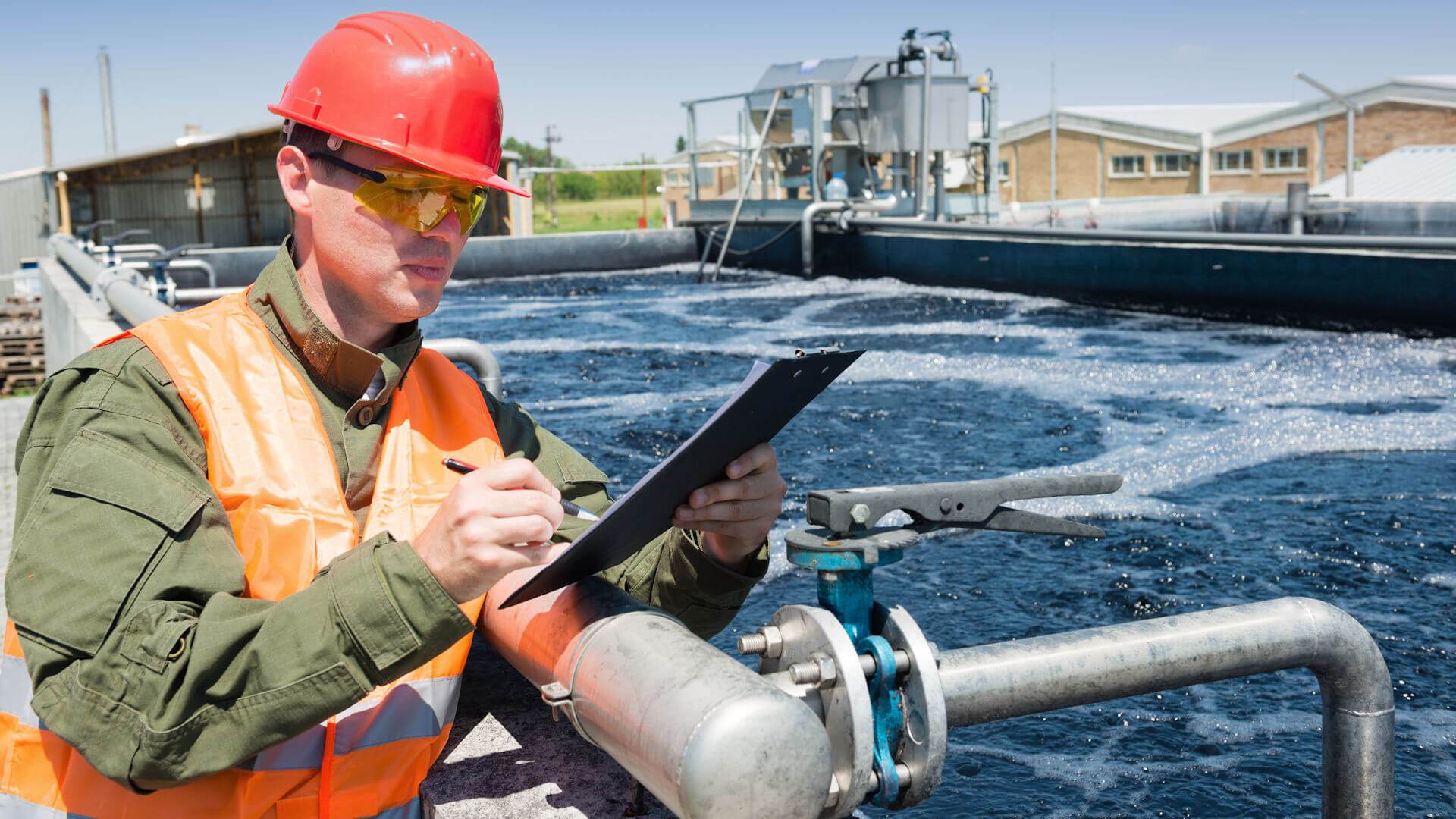 The vibrations of the shaft, impeller and bearings can all be measured by mounting vibration sensors on the bearing housing of the pump.

You should always measure in the radial direction (90o) of each bearing, if at all possible.

Mount the sensor on solid metal on the bearing housing. Make sure that the surface is clean and corrosion free.

On a smaller pump, one measuring point often suffices. On a larger pump motor (more than 75 cm between the bearings), you need two measuring points – one on each bearing.

Vibrations from the shaft and impeller/fan will transmit to the motor bearing. Never measure impeller vibrations on the impeller housing as this is weak and unstable and will provide faulty vibration data. It is better to measure impeller vibrations at the bearing location.
---
6 most common problems in centrifugal pumps
The six most common causes of centrifugal pump failure cal all be detected at an early stage by monitoring the vibration signal of the pump with vibration monitoring solutions from PCH Engineering.

Continuous monitoring of your centrifugal pump allows you to understand its normal vibration patterns and to collect trend data for analysis.


Pump cavitation
Cavitation is when vapour pockets form and collapse as they pass through the pump impeller.

This can severely damage the centrifugal pump and impeller. It typically generates higher frequency broadband energy.
Pump flow pulsation
Pump flow pulsation develops when a centrifugal pump operates near its shut-off head.

It is often indicated by unstable peaks that increase and decrease in time with the flow pulsation.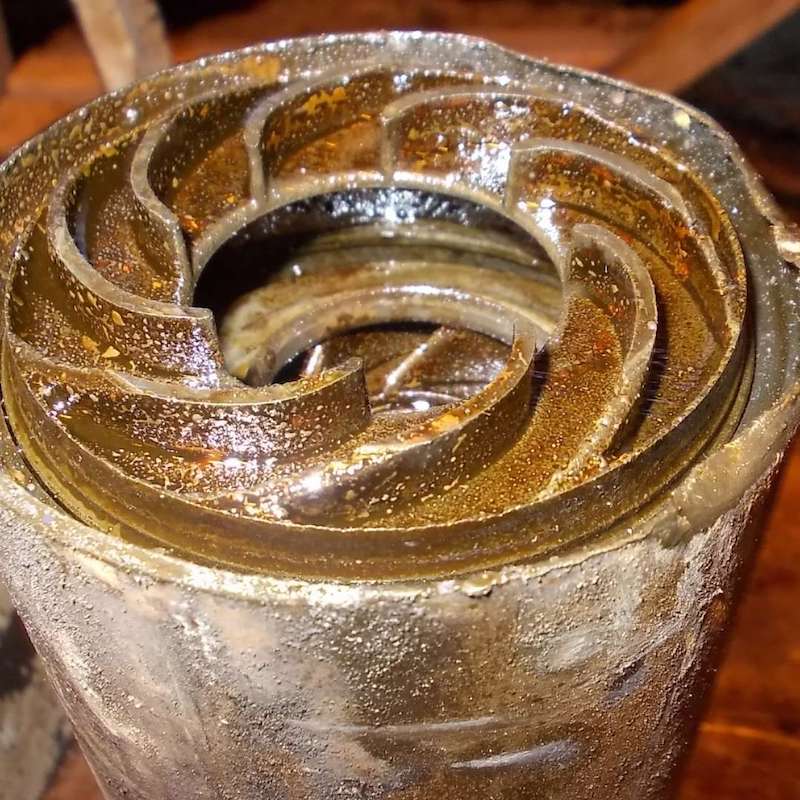 Imbalanced pump impeller
Imbalance of pump impellers have a strong impact on the pump's efficiency and bearing life. For the centrifugal pump to function optimally, it relies on constant, high speed rotation of its impeller.

Imbalance in the pump impeller can cause overheating, shaft deflection, bearing failure, excessive vibration, mechanical seal or packing failure or a complete breakdown of the pump.

For center-hung impellers, unbalance is often indicated by increased axial vibration. The vibration level increases as a result of the impeller movement being obstructed.

For overhung impellers, unbalance is often indicated by unsteady radial phase readings.
Bent pump shaft
If the shaft of the pump is bent, it tends to cause high axial vibration with axial phase differences tending towards 180 degrees on the same rotor.

A bent pump shaft can deflect and damage the whole system.

Pump shaft misalignment
In direct drive pumps, pump shaft misalignment occurs when the centerlines of two shafts are misaligned, or where the centerlines are parallel, but offset from each other.
Pump bearing problems
Pump bearings can fail as a result of pump overload, corrosion, poor maintenance, overheating or simple wear, as bearings tend to have a shorter lifespan than the pump itself.

Bearing failure is typically indicated by an increase in the high frequency vibrations.
Find a vibration monitoring solution to protect your centrifugal pumps from the most common problems in pumps.
Contact a consultant
---