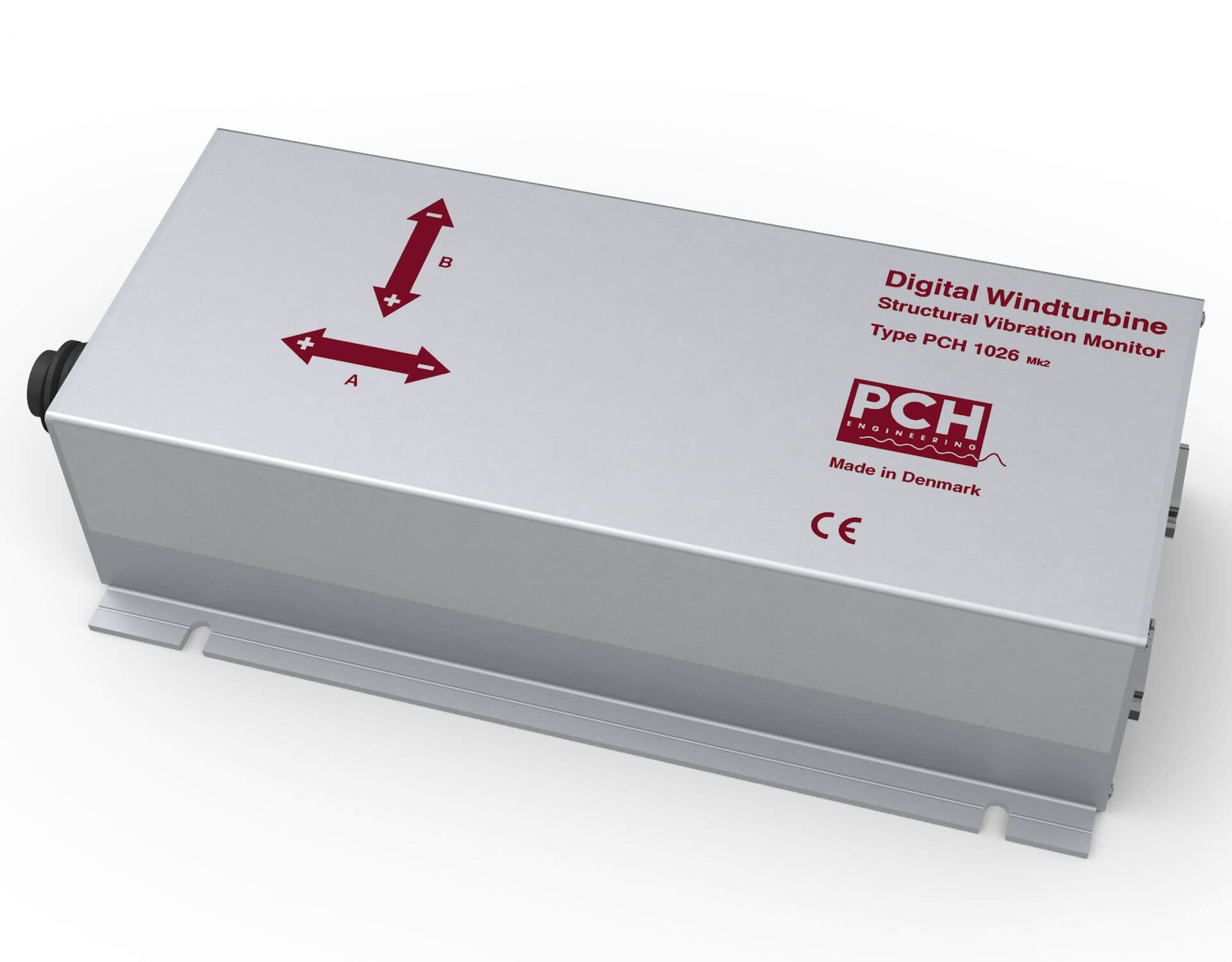 Low frequency monitoring from 0.05 Hz


4 input channels (internal/external)




4 raw outputs (12 conditioning bands)



GL-certified Safety Shock Detection (SSD) relay


Tower Frequency Detection (real-time FFT analysis)



Supports fieldbus communication protocols

Built-in self-test and diagnostics (PL-d, SIL 2)

Wide range of customisation options
Digital, low-frequency safety and control system
PCH 1026 is a highly configurable, digital monitor with a built-in accelerometer. It is designed for low frequency, structural vibration monitoring applications, especially in wind turbines.

PCH 1026 provides far more precise electronic monitoring of the wind turbine than mechanical and electronic detectors. This reduces the turbine downtime and results in a more economical power production.
Designed with the wind industry for the wind industry
The PCH 1026 structural vibration monitor is designed in close collaboration with world-leading wind turbine manufacturers and is currently protecting more than 100,000 wind turbines worldwide.

The monitor is regularly being upgraded with new functionality based on customer feedback and needs.
---
Main features
Sensors: 1 built-in 3-axis accelerometer + up to 4 external sensors

Frequency range: adjustable, 0.1-200 Hz or 0.1-1,000 Hz (2 bands only)

Measuring range: adjustable

Signal detection: RMS, Peak, Peak to Peak

Measuring parameter: acceleration (m/s², mm/s², μm/s², g, mg, μg, Inch/s², mInch/s², μInch/s²), velocity (mm/s), displacement (m, mm, μm, Inch, Mils, μInch)

Outputs: 4 4-20 mA outputs, 12 data channel outputs, 4 alarm relays, 1 GL2010 certified SSD card with independent output for safety loop

Communication: USB, RS232, RS-485, CANbus, CANopen, ProfiBUS, ProfiNet, ProfiSAFE, EtherCat, Ethernet/TCP

Compliance: SIL 2, PL-d, IP 54, ISO 13843, GL2003, GL2010
---
Add-ons
SSD – Safety Shock Detection (CHF 1133)
The monitor can be delivered with integrated Safety Shock Detection (SSD) functionality, certified by Germanischer Lloyd, which is more reliable than a mechanical switch.
TFD – Tower Frequency Detection (CHF 1116)
The Tower Frequency Detection (TFD) functionality detects cracks in cement towers or looseness in tower bases. The monitor will constantly monitor the resonance frequency of the tower, and any changes will trigger an alarm to alert the turbine controller.
Basic drive train monitoring (CHF 1115)
The PCH 1026 monitor offers FFT-analysis for condition monitoring of the drive train, including the turbine, main bearing, gearbox, and generator.
External vibration sensors
You can connect up to four external sensors in single or dual directions in addition to the PCH 1026 turbine monitor's built-in 3-axis accelerometer. This means that the monitor will fit your need for sensors today and can be expanded if you need more advanced monitoring in the future.
External single direction sensor, A (CHB 1102)
The CHB 1100-series is used with the PCH 1026 wind turbine and structural vibration monitor for advanced nacelle monitoring.

Examples are monitoring of low frequency torsional vibrations between the gear box output and the generator.

Furthermore, the CHB accelerometer is suitable for basic gear mesh monitoring of the gear box up to 1000 Hz.
Sensor type: Capacitive accelerometer
Frequency range: 0.1–200 Hz (-1dB)
Directions: One direction, axial
Signal detection: Peak
Sensitivity: 300 mV/g = 30.6 mV/m/s²
Measuring parameter: Acceleration (m/s²)
External dual direction sensor, A & B (CHB 1101)
The external dual direction accelerometer is used for advanced nacelle monitoring with distributed pick-up points.

A separate cable with integrated D-Sub and M12 connector makes installation and connection to the vibration monitor very easy.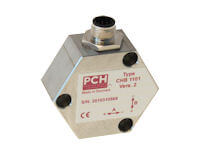 Sensor type: Capacitive accelerometer
Frequency range: 0.1–100 Hz (-1dB)
Directions: Perpendicular directions X, Y
Signal detection: Peak
Sensitivity: 300 mV/g = 30.6 mV/m/s²
Measuring parameter: Acceleration (m/s²)
---
Applications
PCH 1026 is a structural vibration monitor for very low frequency vibration monitoring applications such as:
Steel towers
Chimneys
Bridges
Buildings.
---
Functionality
PCH 1026 is a self-contained monitor in a sealed, rugged casing. To function, only a DC power supply and desired output connections are required.
Highly adaptable digital platform
The design of PCH 1026 is based on a digital platform adaptable to multiple customer solutions. Configurations and settings are changed quickly and easily through the PC Vibration Studio software, even in the field.
The PCH 1026 monitor offers three internal sensors (accelerometers) allowing for measurements in three directions (X, Y and Z), each with independent conditioning channels available.
The filter techniques used in the conditioning channels are based on experience from a vast amount of wind turbine applications. If necessary, two or three conditioning channels can be assigned to just one sensor, i.e., one direction, if signals of different frequencies have the strongest appearance in the same direction.
Easy OEM and personnel access
PCH 1026 can be accessed by OEM's and authorized personnel through the complementary PCH Vibration Studio software, which makes the setup and configuration of the monitor easy. The configuration is carried out through the RS232/USB service port.
Built-in self-test and diagnostics
The PCH 1026 comprises a test function which can be used to test both the internal sensors (accelerometers) as well as the outputs of the monitor.
It reports to any connected controller by means of the System Failure relay and the serial port.
Details concerning the cause of the System Failure can be found using the comprehensive information list in the complementary PCH Vibration Studio software.
The PCH 1026 has a test pin for PLC controlled self-test.
The unit also features several external diodes for easy verification of unit-, alarm-, and communication status.
---
Options
Sensor options
In addition to the three internal sensors, the PCH 1026 can be connected to up to four directional external sensors such as the CHB 1102/17 and the CHB 1101.
This allows you to monitor tasks such as differential nacelle vibrations, torsional vibrations from the output shaft of the gearbox, and many other tasks requiring multiple pick-up locations in the wind turbine.
IEPE Piezo or 3-wire API 678 accelerometer (negative voltage)
API 670 proximity probes (negative voltage)
True Velocity sensors (moving coil technology) ±10V
PCH Low Frequency MEMS accelerometers
DC signals like 4-20 mA or 0-2.4/5/10V for process
Filter range options
The PCH 1026 turbine monitor has 12 simultaneous conditioning bands with high and low band filters. The filter ranges can be customised.
Input / output options
The PCH 1026 is highly configurable with more than 200 combinations, and its input and output options include:
internal 3-axis accelerometer
up to 4 external sensors
up to 4 independent industrial 4-20 mA outputs
up to 4 independent alarm relays
1 System Failure relay
12 data channel outputs
1 optional GL2010 certified SSD card (high-power/low power) with an independent output for a safety loop
setting up and accessing data from internal Zoom FFT on up to 2 channels
industrial communication protocol support: USB, RS232, RS-485, CANbus, CANopen, InterBUS, ProfiBUS, ProfiNet, ProfiSAFE, DeviceNET, EtherCat, Ethernet/TCP etc.
Alarm limits and delay times
The alarm relays of the turbine monitor can be individually configured.
---
Compliance
The PCH 1026 is certified according to Germanischer Lloyd GL2010 guidelines and ISO13849-1 as a PL-d safety component.
It is SIL 2 and PL-d compliant and has an IP 54 rating.
In addition, it is certified to monitor vibrations in buildings according to ISO 4866.
See the product data sheet for further details.
---
---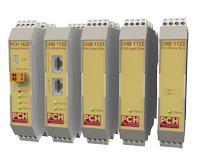 See all vibration monitors