PCH Engineering provided Novozymes with vibration monitoring equipment for a number of vertical mixers in various locations worldwide as well as remote installation guidance and support.
The vibration monitoring equipment consisted of installation kits for each vertical mixer including:

8 30 meter accelerometer cables, shielded, twisted and paired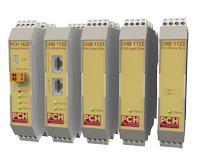 The products were delivered within five weeks and installed by the client during scheduled maintenance breaks in the production with the help of instruction from PCH Engineering's specialists.

As soon as the system had internet access, Novozymes could begin monitoring and comparing the amplitudes of various mixers.

The IIoT solution enabled the client to receive time waveform data in a structured way for a deeper analysis of the wear on the machinery during the mixing process. A speed sensor provides an RPM status of each mixer, which is used for order tracking in the FFT and for the evaluation of scalar value measurements.

This data forms part of the client's overall condition monitoring program to prevent machine damage and downtime and ensure a reliable and continuous production.

The PCH equipment also sends immediate trend scalar values of the main gearbox frequencies, from the electrical motor and main mixer bearing, to the client's cloud storage for further analysis.

The processed data from the PCH 1420 vibration monitors can be used to set off a direct alarm or temporarily shut down the mixer in question in the event of a fault being detected.