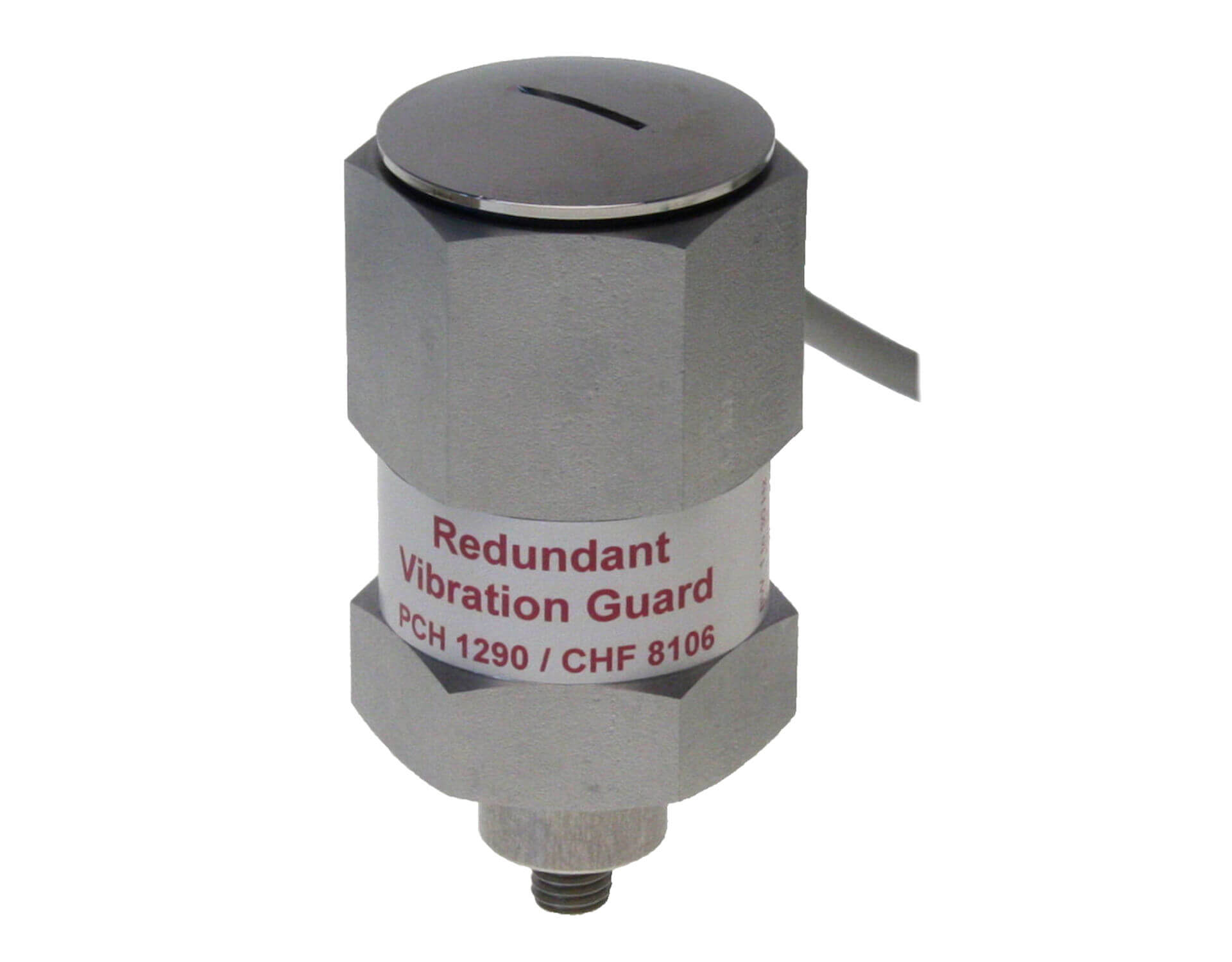 PCH 1290 is a simple, cost-effective and safe machine monitoring solution offering full redundancy.

The fully redundant vibration monitor comes with two individual sensors in one casing. This means that you only need to mount one device to get the data input of two vibration sensors.

PCH 1290 is suitable for enhanced SIL 2 protection in compliance with EN 13849, as each of the two individual processors and alarm relays work simultaneously in one vibration guard.
---
PCH 1290 Main Features
Rated according to EN 13849, PL-d, Cat 3 MTTF(d): 1359 years
Measuring parameter: velocity mm/s or acceleration m/s²
Typical frequency range: 1-30/10/300 or 10 to 1000 Hz
2 alarm levels with individual delay times and redundant alarm relays
Redundant analogue DC outputs RMS 4-20 mA, proportional to 0-100 %
Measuring range selectable: 10/20/50/100 mm/s or 10/20/50/100 m/s²
Self-test function can be activated externally
Safety level SIL 2, GOST-R certificate and UL approved
---
Applications
The PCH 1290 Redundant Vibration Monitor is a safe and sensible choice when you need redundant protection for your rotating machinery such as:
---
Functionality
The device consists of two independent vibration monitors built into the same compact housing. With this vibration monitor you get two 4-20 mA outputs and redundant alarm relays for full protection in accordance with Functional Safety EN13849, PL-d. This special design places PCH 1290 in the Category 3 with an architecture 1002 D.

Every 100 milliseconds, the actual vibration level measured by the two independent vibration monitors is compared to the internal alarm threshold. In the event of the vibration level being too high, the redundant alarm relays will open after a delay time.
---
Options
Monitor acceleration or velocity
The PCH 1290 Redundant Vibration Monitor is part of the PCH Vibration Guard series. All the monitors in the series can be configured to measure velocity (mm/s) or acceleration (m/s2).

Select measuring parameters
Low frequency versions are available. Individual measuring parameters can be customised.
---
Compliance
The PCH Redundant Vibration Guard monitor seismic mechanical vibrations according to DIN/ISO 10816 as default. PCH 1290 is rated according to EN 13849, PL-d, Cat 3 MTTF(d): 1359 years.

Each calibrated vibration monitor delivered by PCH Engineering comes with a test certificate.
---
---
Other products you may be interested in: