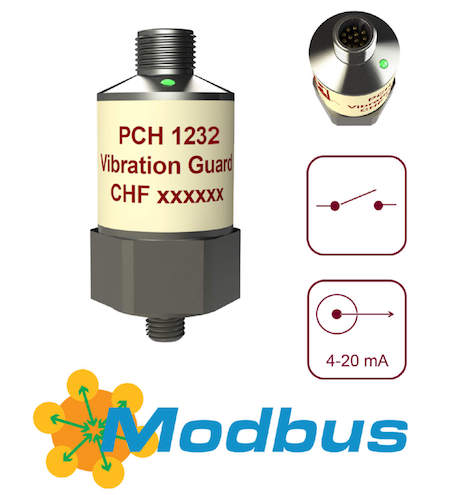 The PCH 1232 vibration monitor with built-in accelerometer offers full integration with Modbus RTU in a distributed RS-485 network.
For new automation projects or upgrades, the integration to Modbus RTU is simple and delivers more vibration measurement data than the classical 4-20 mA outputs.
Up to four configurable filter bands monitor various critical machine components on your rotating equipment. Alarm levels and filter ranges are user configurable with the included PCH Vibration Studio.
This vibration monitor uses several narrow filter bands to enhance the vibration monitoring for condition monitoring purposes.
Lower vibration amplitudes are more easily and more thoroughly tracked and you get more data on the condition of your machines, allowing you to schedule maintenance at the exact time that you need it.
The PCH 1232 Vibration Guard is compatible with
PCH Cloud
, our Industry 4.0 condition monitoring solution with data in real time.
---
PCH 1232 Main Features
Measuring parameter: velocity mm/s or acceleration m/s², RMS or Peak
Frequency ranges: 10 to 1000 Hz or selectable HP/LP filters for narrow bands
Up to 4 configurable filter bands with scalar values
2 alarm levels with individual delay times per filter band
2 analog DC outputs 4-20 mA and 2 alarm relays
RS-485 and Modbus RTU communication
Setup by PCH user software PCH Vibration Studio through USB or RS-485
Self-test function can be activated externally
---
Applications
The PCH 1232 vibration guard can be used to monitor and protect a wide range of rotating machines in a production environment, e.g.:
---
Functionality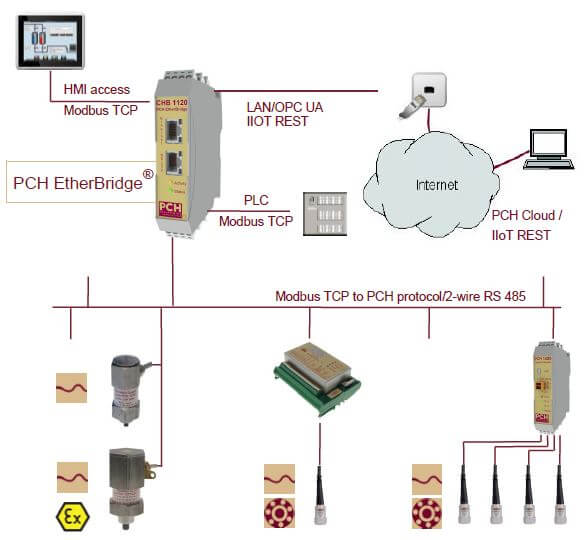 A PCH 1232 vibration guard is a self-contained vibration monitor in a sealed, stainless steel casing. To function, it only requires a +12V to +24 VDC power supply and the desired output connections.

The PCH 1232 device is designed for low frequency vibration monitoring applications by means of 2 (redundant) internal vibration sensors. The built-in vibration sensors (accelerometers) are configured in one axial direction.

The PCH 1232 vibration guard is delivered with all the necessary test functions for all sensors and electronic circuits, as well as an internal watchdog for continuous self-monitoring of its functions.
The design of the PCH 1232 is based on a digital platform allowing multiple customer solutions and, if required, easy and rapid change of configurations and settings by PCH, even in the field.

The Vibration Guard consists of a vibration sensor as well as circuitry for conditioning, alarms and outputs, all embedded in a stainless steel housing.

The PCH 1232 is compatible with
PCH Cloud
, the first condition monitoring solution with real time vibration data.
Vibration monitoring
PCH 1232 monitors seismic mechanical vibrations according to DIN/ISO 10816. PCH 1232 monitors seismic mechanical vibrations as well as structural vibrations and can be configured to measure velocity (mm/s), acceleration (m/s²) and displacement (μm or mm).

The vibration parameters calculated are general vibration parameters, i.e. the true RMS, Peak or Peak-to-Peak value of the vibration signal in m/s2, mm/s, μm, or in a percentage of the full scale.

Up to 4 simultaneously running filter bands can be configured.

Alarm functions
The current vibration level is continuously compared to the two alarm limits. If the alarm limits are exceeded, the two alarm relays, A1/D1, will be triggered and inform the user, e.g. via a connected rotor light, beeper, controller or by directly shutting down the machine.

Both alert (A1) and danger (D1) have built-in delay times, which prevent false alarms due to momentary transients. All monitors have built-in latch functions, ensuring that the alarm relay stays triggered until it has been manually or remotely reset, even though the vibration level has decreased.

Outputs
PCH 1232 offers 2 DC outputs and full multidrop Modbus RTU integration through 2-wire RS-485.

Configuration of the outputs can be done with a service cable or via the RS-485 network when connected to PCH Vibration Studio.

---
Options
Adjust settings in the monitor or online
Measurement range, alarm limits and delay times can be adjusted to the machine type and size directly in the monitor.

The configurations are carried out using a service cable with a USB connector and the complementary PCH Vibration Studio user software.

Monitor acceleration, velocity or displacement
PCH 1232 can be configured to measure velocity (mm/s), acceleration (m/s²) and displacement (μm or mm).

---
Compliance
PCH 1232 monitors seismic mechanical vibrations according to DIN/ISO 10816.

Each calibrated Vibration Guard delivered by PCH Engineering comes with a test certificate.

---
---
---
You may also be interested in: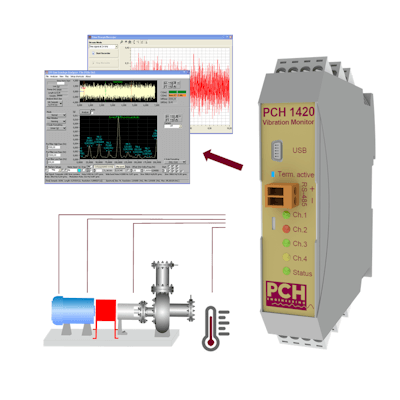 SIL 2 Vibration monitors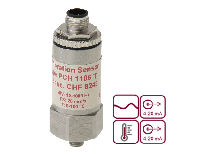 Redundant vibration sensors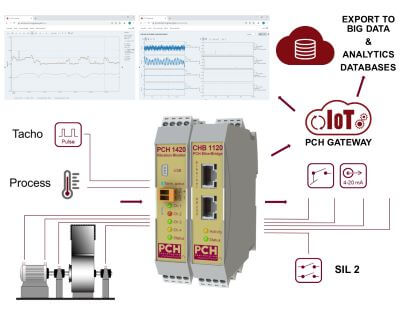 PCH Cloud - Industry 4.0 condition monitoring with real time vibration data