The PCH Input Box (type CHB 1122) is a module in the PCH Link Concept series offering six additional DC process inputs to the PCH 1420 Vibration Monitor as well as a loop power output for external sensors.
---
Main features
Input channels: 6 process inputs
Input options: Pt100, 0/4-20 mA (with optional loop power output), or DC 0/2-10 V
Operating temperatures: -10 °C to +60 °C
Communication: I2C DIN rail bus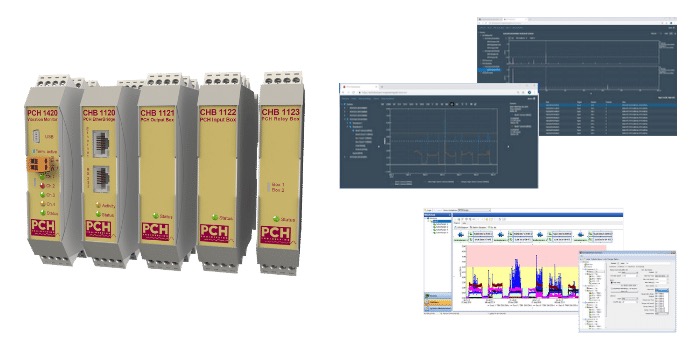 ---
Applications
---
Functionality
The PCH Input Box is connected to the PCH 1420 Vibration Monitor via an I2C DIN rail bus, offering six additional input channels.

Only one PCH 1420 and one CHB 1122 can be connected to the same I2C bus. However, other types of boxes, e.g., the CHB 1123 PCH Relay Box, can be added.

All process parameters are monitored by the PCH 1420 vibration monitor, which gives alarms and/or converts the process parameters to 4-20 mA outputs.
---
Options
Input channel combinations
Several hardware versions are available, for instance:
CHF8462: 6 x 0-10 VDC
CHF8463: 6 x 0-20 mA
CHF8464: 4 x Pt100 + 2 x 0-20 mA
Other input combinations are available upon request.
---
Casing
The PCH Input Box is prepared for DIN rail installation with an IP20 DIN rail enclosure with screw terminals.
---
Alarm and test functionality
Each process input channel can be configured with several alarms for high or low levels, inhibit functionality and responses to missing input signals.

The six LEDs on the front panel indicate Alert, Danger or Channel Error alarms.
---
---