Vibration sensors from PCH Engineering
At our factory in Denmark, we design and manufacture a number of specialised vibration sensors and transducers in close collaboration with the industries to which we deliver.
1-, 2-, and 3-axis MEMS accelerometers
Designed for low frequency monitoring of wind turbines and other structural monitoring applications, the external, 1-, 2- and 3-axis MEMS accelerometers are manufactured at PCH Engineering's own facilities in Denmark.
While the single direction, low frequency accelerometer is intended for low-frequency monitoring of wind turbines and other structural applications, the dual direction accelerometer is often used for advanced nacelle monitoring in wind turbines with distributed pick-up points.
The triaxial MEMS accelerometer is suitable for use with data acquisition systems or
PCH 1420 Vibration Monitor
. In low frequency applications such as structural monitoring of buildings, antennae, bridges or dams, it is the ideal cost-effective solution.
Compatible vibration monitors
PCH 4-20 mA vibration sensor (PCH 1106)
This standard 4-pin PCH 1106 Mk2 is designed for permanent monitoring of unbalance and misalignment in rotating machinery.
The PCH 1106 comes in various configurations to match your specific monitoring needs and can easily
be connected to a PLC or CTS system.
---
Accelerometers and accessories from CTC
In addition to our own line of rugged, low-frequency accelerometers, you will find a range of vibration sensors and cables from the experienced manufacturer CTC.
Why we trust CTC accelerometers and sensors
American CTC (
Connection Technology Center, Inc.
) is the industry-leading manufacturer of vibration monitoring hardware. The family-owned company has been at the forefront of industrial sensor development for almost 30 years, and their products come with a best-in-class lifetime warranty.
CTC's wide range of affordable vibration sensors are designed to last in demanding industrial conditions: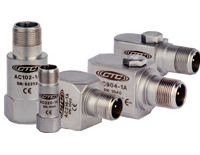 Permanently mounted or portable accelerometers
With a welded, hermetically sealed design and SIL certificates, CTC's accelerometers are suitable for most industrial applications, either as permanently mounted sensors or as part of your portable monitoring equipment.


Proximity probes / Eddy current probes
CTC also provides the industry's most durable and reliable proximity probes for measuring shaft vibration and displacement on your most critical industrial machinery.
CTC's proximity probes are
Bently™ Nevada compatible.
4-20 mA loop power sensors from CTC
CTC's 4-20 mA loop power sensors come with either a velocity or an acceleration output or in a dual version with an additional temperature output (10mV/°C), so you can easily measure temperature as well as the overall vibration of rotating machines.

4-20 mA sensors from CTC are special order items as they are factory configured.




Compatible PCH vibration monitors
The CTC sensors are compatible with the following PCH vibration monitors:
PCH 1072 1-channel vibration monitor with one 4-20 mA output
PCH 1073 1-channel vibration monitor with two 4-20 mA outputs
PCH 1420 4-channel vibration monitor
---
Vibration sensors for condition monitoring and IoT
For condition monitoring purposes, we recommend you pair the CTC vibration sensors with the advanced 4-channel PCH 1420 vibration monitor combined with a PCH Etherbridge module. This enables you to collect and analyse the sensors' vibration data in the cloud and connect it with other asset data to help with optimisation and predictive maintenance.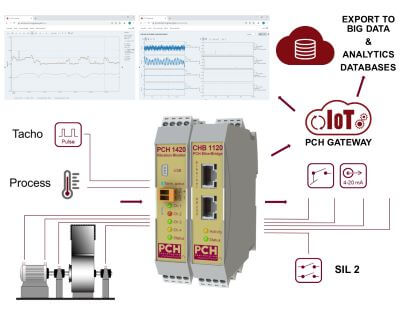 ---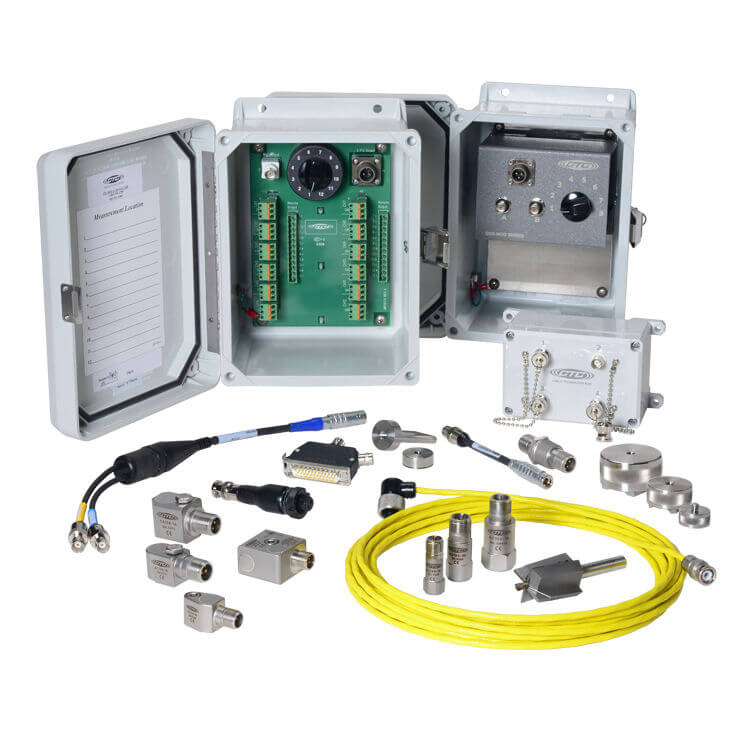 Cables and mounting hardware for accelerometers
Choose from our wide range of mounting studs, cables, drivers, and extension cords when designing your PCH vibration monitoring solution. Or purchase the hardware accessories individually as spare parts.