Monitoring the vibration and temperature levels of your turbocharger can help ensure the safety of your rotating machinery and engines.

A turbocharger is a highly sensitive piece of machinery. Damage to a turbo is not only expensive in terms of repairs and lost production time; it is also extremely dangerous.

The turbine blades of a medium-sized turbocharger rotate at up to 40-60,000 rpm, and exhaust gas temperatures can reach up to 700° C. In the event of a turbocharger breakdown, this can cause severe damage to other equipment and injure personnel.
Protect Your Turbocharger with Vibration Monitoring
It is possible to check the technical condition of the turbocharger, its rotors and bearings without stopping the engine.

With vibration monitoring, you can monitor the condition of the bearings and rotating elements in your turbocharger and detect imbalances and wear before they cause breakdowns.

Our modular vibration monitoring solution allows you to set individual warning and trip alarms that alert your staff locally and adjust the vibration input channels to each turbocharger. With the addition of an EtherBridge module, you can access and analyse data online, use trend data to predict and schedule maintenance of your turbochargers.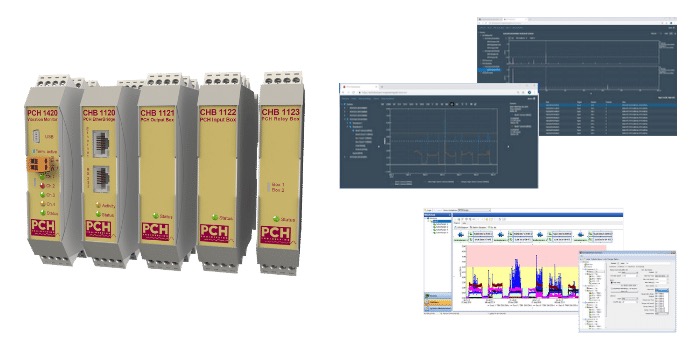 This solution is compatible with
PCH Cloud
, the first IoT condition monitoring solution to provide vibration data in real time and store data in the cloud for remote, online access.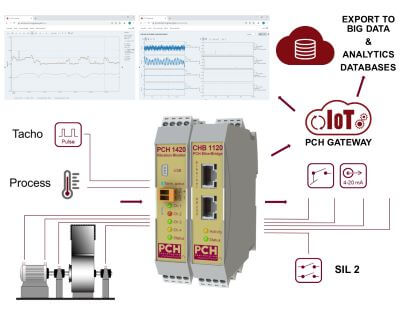 Study: Online Vibration Monitoring Is The Most Effective Method
In his study
"Marine Diesel Engines Turbochargers Diagnostic Methods"
, Tomasz Lus from the Polish Naval Academy compares acoustic signals and vibration signals processing methods:
"[... the] vibration method which using blades harmonic is not effective for technical condition assessment for malfunctions. For such malfunction the best tool for turbocharger test is the I-st harmonic of vibrations accelerations amplitude signal measurement in whole turbocharger speed range or at list in whole engine output range. [
sic
]"
Lus concludes that:
"In this respect vibration signals processing methods seems to be much more effective.
"[…] Presented vibration diagnostic methods gives opportunity to change the old engine maintenance philosophy connected with turbochargers maintenance process. It is possible using on-line vibration monitoring systems to go from scheduled to condition based turbochargers maintenance without fear about real operating engine conditions. [
sic
]"