Bearing Condition Monitoring:
Detect Bearing Faults with Vibration Monitoring
Vibration monitoring is one of the most commonly used methods to detect early stages of bearing wear and bearing faults.​

Rolling element bearings such as roller bearings and ball bearings are critical components in most rotating machinery. With bearing vibration analysis, you can predict the need for bearing maintenance and prevent unscheduled production stops.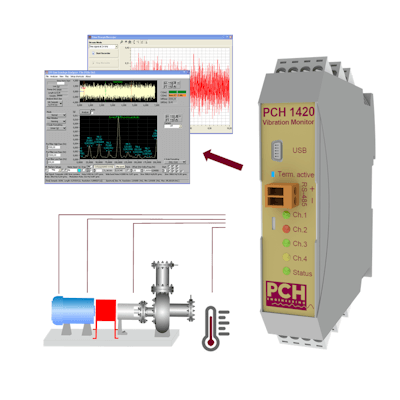 Low-cost bearing vibration monitoring solutions from PCH Engineering
Excessive bearing vibration can indicate defects in the various bearing components as well as unbalance and misalignment issues, which can lead to bearing failure.

PCH Engineering offers you a wide selection of vibrations sensors and monitors for monitoring bearing conditions:

Looking for a bearing monitoring solution?
---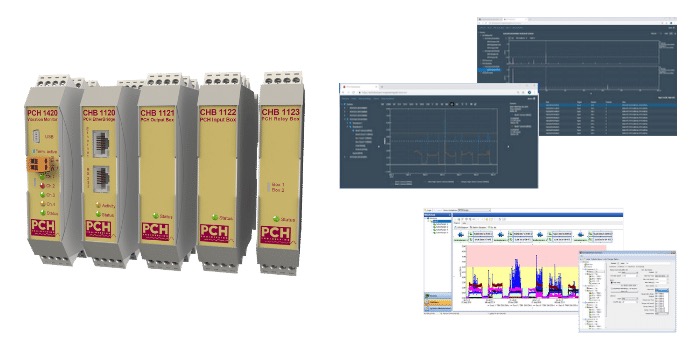 Low-cost bearing condition monitoring system
At PCH Engineering, you can find a bearing vibration monitoring solution to match your requirements at affordable prices.

The PCH vibration monitoring system is modular, which means you can expand and adapt your solution as the need arises.



Safe, fast and flexible delivery
Our experienced engineers produce the monitors on demand at our production facility in Denmark, which makes production and delivery safe, flexible and fast.

We offer out of the box or customised bearing monitoring solutions to OEMs as well as large and small enterprises.



---

Why monitor bearing vibrations
All ball bearings and roller bearings vibrate as a result of the rotating motion of the machine.

If a bearing or its rolling elements are worn or damaged, the bearing vibration signal will change, indicating that the bearing condition is deteriorating.

By monitoring and analysing the bearing vibration signal, you can schedule bearing maintenance or replacement during planned downtime, preventing severe damage of the machine, unscheduled downtime or a complete and costly production stop.
Common bearing faults that can be detected with vibration monitoring
Excessive loads
Overheating
True brinelling
False brinelling
Normal fatigue failure
Reverse loading
Contamination
Lubricant failure
Corrosion
Misaligned bearings
Loose fits
Tight fits
---
Industrial bearings suitable for vibration monitoring
Ball bearings
Single-row ball bearing

Double-row ball bearing

Double-row self-aligning ball bearing

Single-row angular contact bearing

Double-row angular contact bearing
Roller bearings
Roller bearings

One-row cylindrical roller bearings

Two-row cylindrical roller bearings

Spherical roller bearings

Conical tapered roller bearings

Needle bearings

How to monitor bearing vibrations
We recommend that you use a vibration monitor which measures up to 10 kHz and comes with bearing fault detectors such as Envelope spectrum, Crest factor and Kurtosis spectrum.

With the PCH 1073 and PCH 1420 vibration monitors, you get all of that and more.

The monitors are part of the PCH Link Concept, which means you can daisy-chain up to 20 monitors and combine them with the PCH EtherBridge module for IoT compatability. In addition, the monitors offer redundant safety relay (SIL 2), configurable alarm levels and delay times for local safety, offline FFT analysis and vibration data in real time.
PCH 1073 1-channel vibration monitor
This 1-channel vibration monitor operates within two simultaneously running frequency bands measuring between 0.7 Hz and 11.5 kHz.

The primary low-frequency band monitors vibrations according to DIN/ISO 10816.

The second multi-purpose band offers detectors such as RMS, Envelope, Crest factor and Kurtosis, and is ideal for monitoring the condition of roller bearings.
PCH 1420 4-channel vibration monitor
Detect early bearing faults and monitor the severity of unbalance and misalignment in your machinery with this advanced vibration monitor.

Its four input channels can be configured for various types of vibration sensors.

The monitor is ISO 10816/20816 compliant and offers broadband high frequency monitoring, Envelope, Kurtosis and Crest factor for bearing fault detection.
Where to mount vibration sensors on bearings
It is important to mount your vibration sensors correctly to ensure that the bearing's vibration signal is distributed to the vibration sensor without any disturbance.

If you can't mount the vibration sensor directly on the bearing housing, place the sensor as close to the bearing as possible.

The position of the sensor determines the amplitude of vibrations measured – and hence, how early bearing defects are found.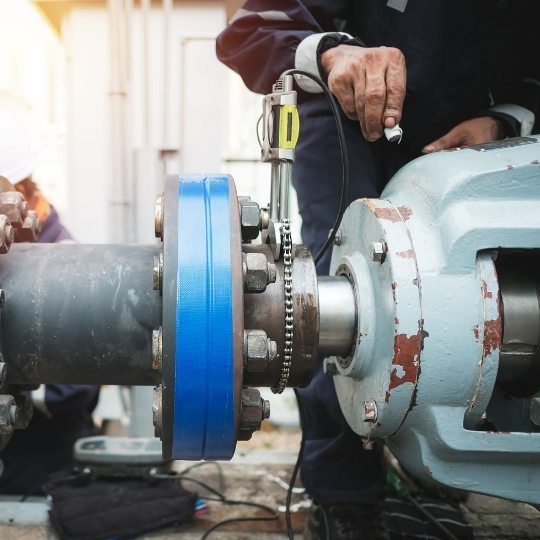 Portable or permanently mounted sensors
When using portable equipment, make sure to place the sensor in locations that ensure measurement of vibration signals in the horizontal, vertical and axial dimensions.

Permanently mounted sensors should be mounted in a radial position (90o) to the shaft and bearing.

For large machinery, you may want to consider X and Y positions.
Know your basic bearing vibration frequencies
The bearing manufacturer usually provides four basic bearing frequencies for each of the bearings' components:

BPFI – Ball Pass Frequency, Inner race = the number of balls or rollers that passes through a given point of the inner race each time the shaft makes a complete turn

BPFO – Ball Pass Frequency, Outer race = the number of balls or rollers that passes through a given point of the outer race per shaft turn

BSF – Ball Spin Frequency = the number of turns each bearing ball or roller makes per shaft turn

FTF – Fundamental Train Frequency = the number of turns the bearing cage makes per shaft turn.
Quality measurements depend on choosing the right vibration monitoring equipment for the job.

Our consultants are here to advise you on the best vibration monitoring solution for your bearings.

---

4 stages to roller bearing failure and how to monitor each stage
Rolling element bearings progress through four stages towards failure. With vibration analysis, you can monitor the progression, estimate the time of failure and take preventive action.

Stage 1: The bearing is in good condition
The bearing is new and in mint condition.

Make sure to record its frequency 'signature' and normal operating acceleration and velocity values at this stage.
Stage 2: Bearing wear has started, but is invisible
At stage 2, the bearing still looks flawless to the naked eye, but defects have started under the surface.

The frequency signature changes, and the overall base level noise and velocity spectrum rise.
Stage 3: Bearing defects are visible
The raceway typically shows signs of surface failure in the form of metal coming off in minute sheets (known as delaminating).

The velocity spectrum is much higher, and more background noise has developed with certain frequencies standing out in the background noise (side bands). This indicates that failure is fast approaching.
Stage 4: Audible bearing noise indicating urgent need for bearing replacement
At this stage, the change in vibrations is audible to humans as excessive bearing noise.

More vibration frequencies appear, and more velocity side bands develop. Readings start to indicate amplitude changes.

---
Most common causes of bearing failure
Most bearings do not last their expected lifetime. You can increase the lifetime of your bearings by ensuring proper installation, proper lubrication and bearing maintenance.

One way to ensure that your machine is properly maintained and neither overlubricated nor lacking lubrication is to monitor the vibration signal of the machine.

Bearing lubrication failure
Lubrication failure is the most common reason for bearing failure. For a bearing to function optimally, it must be properly lubricated with the right lubricant for the application and the exact amount necessary.
Lubrication problems in bearings occur due to:
incorrect lubrication (either the wrong lubricant or the wrong temperature)

inadequate maintenance (not enough lubricant)

overlubrication

contamination from seal failures or other external sources
Bearing corrosion
Corrosion in bearings can be caused by sources that produce rust such as fluids, oxidants, acids etc.

Corrosion causes increased vibration as debris builds up in the bearing, leading to preload.

Sealed bearings can help in some conditions, but they are not always enough.

Bearing contamination
Contamination in the form of dirt or grit between the balls or rolling elements can severely damage the bearings.

Bearing contamination can happen due to:
Improperly maintained bearings with failed seals – or bearings with no seals at all

Poor lubrication monitoring with debris building up in the lubrication grease

Incorrect lubrication, which leads to premature wear and bearing failure
Overloading / Excessive loading of bearings
Excessive loading of the bearings can lead to premature bearing fatigue.

Excessive loading can be caused by:
installation flaws leading to unbalance and misalignment of the bearing or the machine
spalling failure (small shards of metal weld themselves together in the bearing)
premature metal fatigue
tight fits
misalignment, bent shafts, burrs etc.
choosing the wrong bearing for the application (e.g. using rolling element bearings for oscillating machinery).
Condition monitoring can help increase the lifetime of the bearing and decrease wear and the risk of bearing failure.

Let us help you find the right monitoring solution for your rolling element bearings.
---