How does the PCH vibration data acquisition system work?
The PCH vibration data acquisition system collects, stores and visualises vibration data from temporarily or permanently mounted IEPE vibration sensors on critical assets.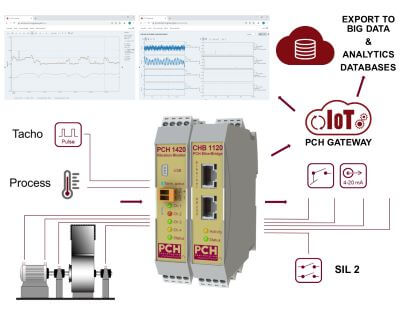 PCH DAQ components
The system consists of a combination of hardware components and a software component and comes at a fraction of the price of the dedicated DAQ systems for specialists.
---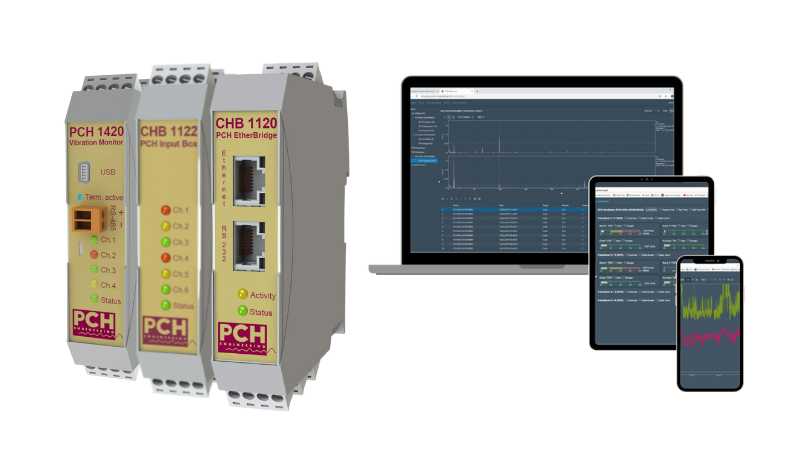 The hardware components of the PCH vibration data acquisition system include:
The software component is:
---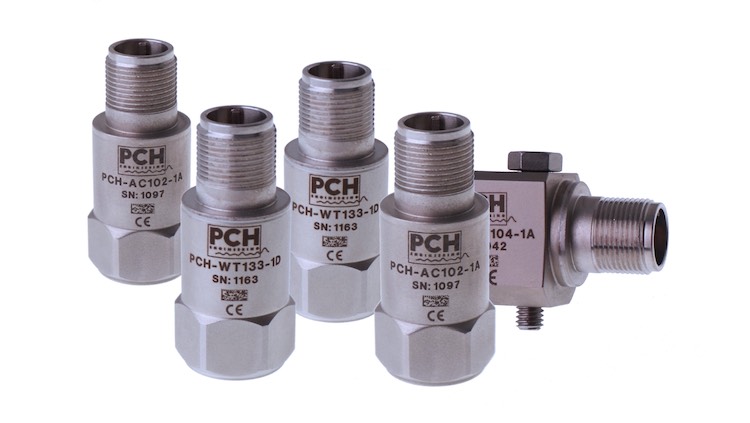 Vibration sensors
PCH 1420 4-channel vibration monitor
The
PCH 1420 Vibration Monitor
is the signal conditioner that samples the data and amplifies, filters and converts the signal to a digital output before sending it through the PCH EtherBridge gateway to the monitoring software.
It has four input channels for IEPE accelerometers, which means it can sample dynamic input data simultaneously and provide accurate results quickly.
The monitor collects trend data continously, enabling you to analyse and optimise the operation of your critical assets over time. The AC time files are collected in chunks of 2-10 seconds at five minute intervals.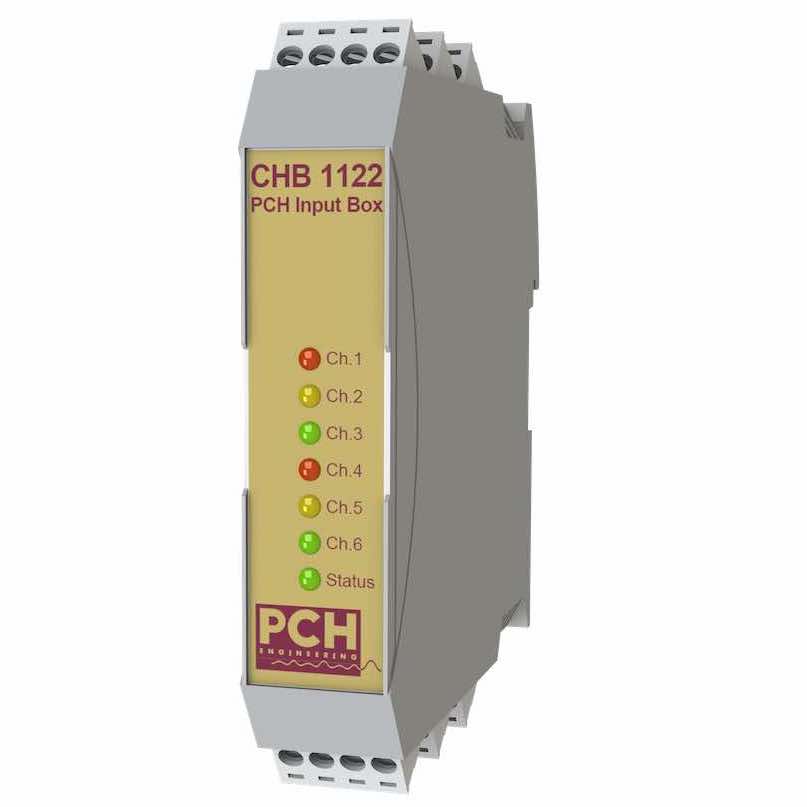 PCH Input Box
The
PCH Input Box
adds 6 process input channels to the PCH 1420 Vibration Monitor, which can be used for DC values (0-10 volt, 4-20 mA or pt100) such as temperature or pressure.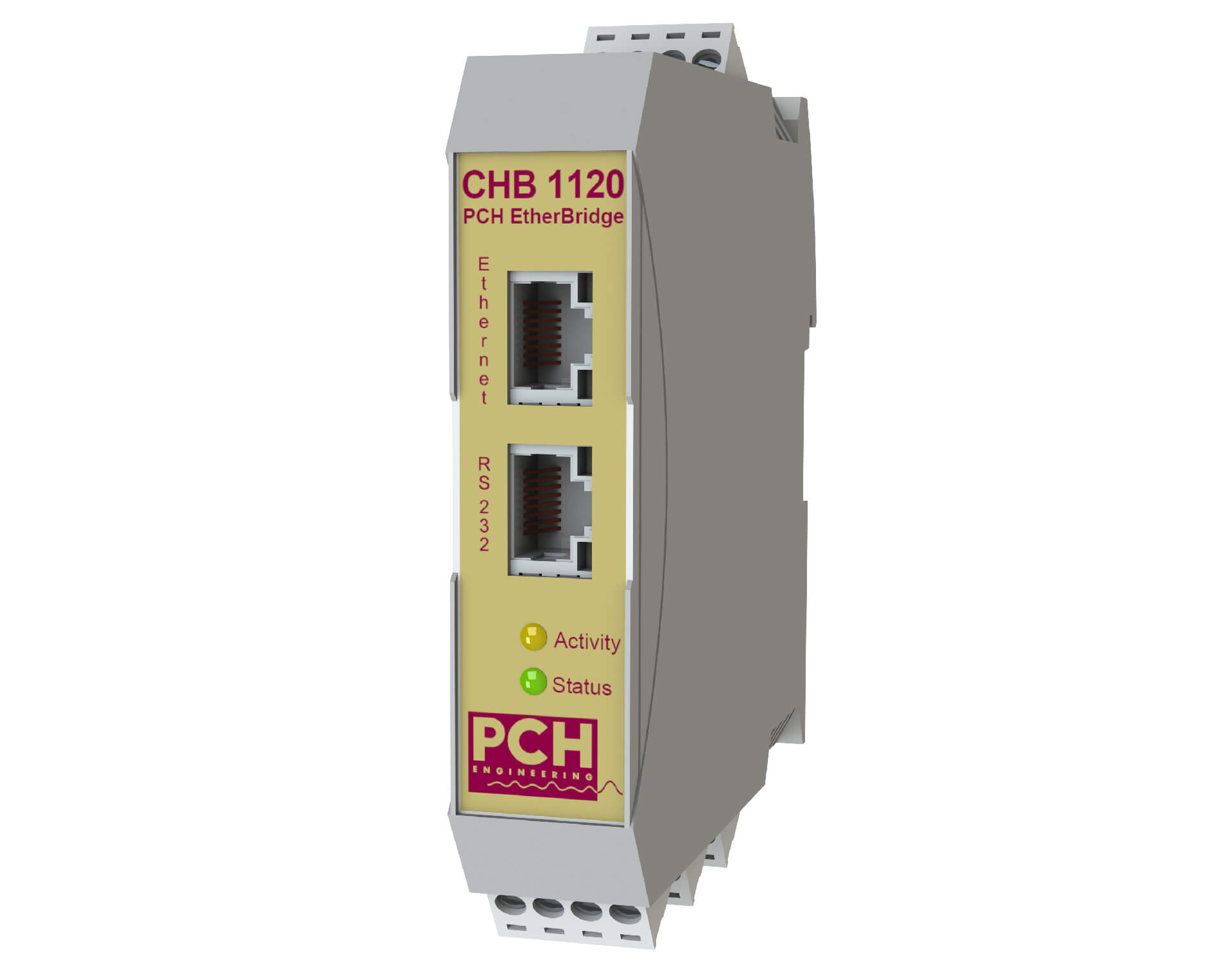 PCH EtherBridge
The
PCH EtherBridge
is the gateway between the data and your local network or IoT database.
Depending on the amount of data collected, you can daisy-chain several PCH 1420 Vibration Monitors to the same PCH EtherBridge, even over huge distances, which enables you to scale your DAQ system to match your exact needs.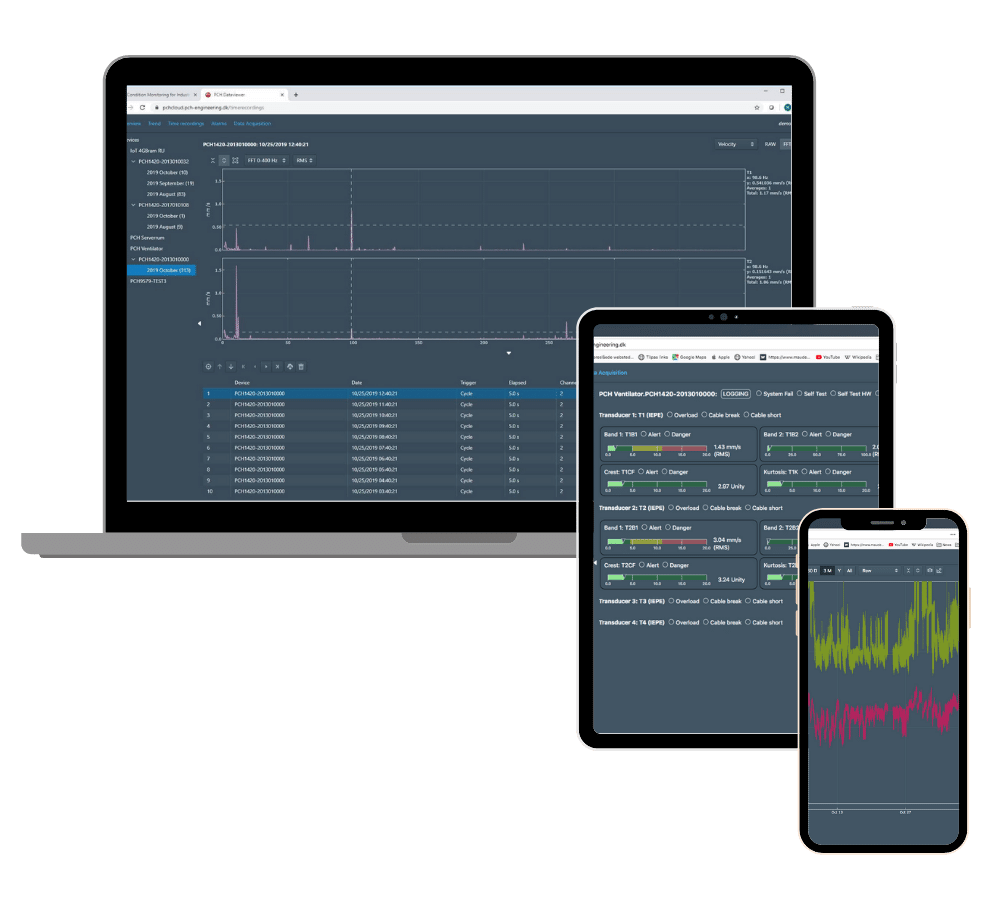 PCH Dataviewer
The
PCH Dataviewer software
visualises the data collected by the PCH 1420 Vibration Monitor, enabling remote analysis and comparison of vibration data from all monitored assets, regardless of their location.
The software presents FFT data, trend data and historical data in clear, easy-to-understand graphs and reports.
If you prefer, you can export data to open formats such as the National Instruments' format TDMS or CSV files and use the third-party data analysis software of your choice.
The system also supports REST API from local or cloud-based servers (see
PCH Cloud
for further information on supported data formats).
Want to know more about the PCH DAQ system?

We are here to help:
---
Industrial applications of the PCH DAQ system
This simultaneous data acquisition system can be used in a variety of industries and applications. Common applications include:
condition monitoring of critical assets
predictive maintenance
in-depth vibration data analysis
trend mining
Industrial IoT and Industry 4.0 environments.
---
Features of the PCH DAQ
Real-time monitoring of trend data
Automated vibration data collection
High reliability
Simultaneous data sampling of 4 AC channels
Local or cloud-based vibration data logging
Vibration data analysis tools
Remote access
Security features
Modular scalability
Advanced bearing fault detectors
Advanced filter bands.
Main features
Real-time monitoring of trend data
This feature allows you to monitor vibration data in real time, enabling you to make informed decisions quickly.
Automated vibration data collection
The vibration sensors are permanently or temporarily mounted, which means that the vibration data is collected automatically without the need for manual measurements.
High reliability
Each component in the PCH DAQ system is originally made for the safety monitoring industry where downtime is not an option.
Simultaneous data sampling
The signal conditioner (PCH 1420) uses an individual A/D converter for each input channel, which provides accurate results faster than multiplexed DAQ devices.
Local or cloud-based data logging
You can store and organise vibration data from the PCH DAQ system on a local server or on a cloud server of your choice.
Data analysis tools
Analyse the vibration data and identify trends or patterns with the user-friendly data visualisation tool PCH Dataviewer.
Remote access
You can log in and access the PCH Dataviewer visualisations from any computer, tablet or smartphone from anywhere in the world.
Security features
Data can be stored on a local Edge computer or in a password-protected data cloud. You retain ownership of all your data.
Scalability
The modular nature of the PCH data acquisition system makes it easy to scale your DAQ solution up or down depending on your needs.
Optional features
Advanced bearing fault detectors
You have a choice of various bearing fault detectors such as Envelope, Crest and Kurtosis.
Advanced filter bands
The PCH 1420 Vibration Monitor comes with the option of advanced filter bands to help you gather the exact data you need and filter out the rest.